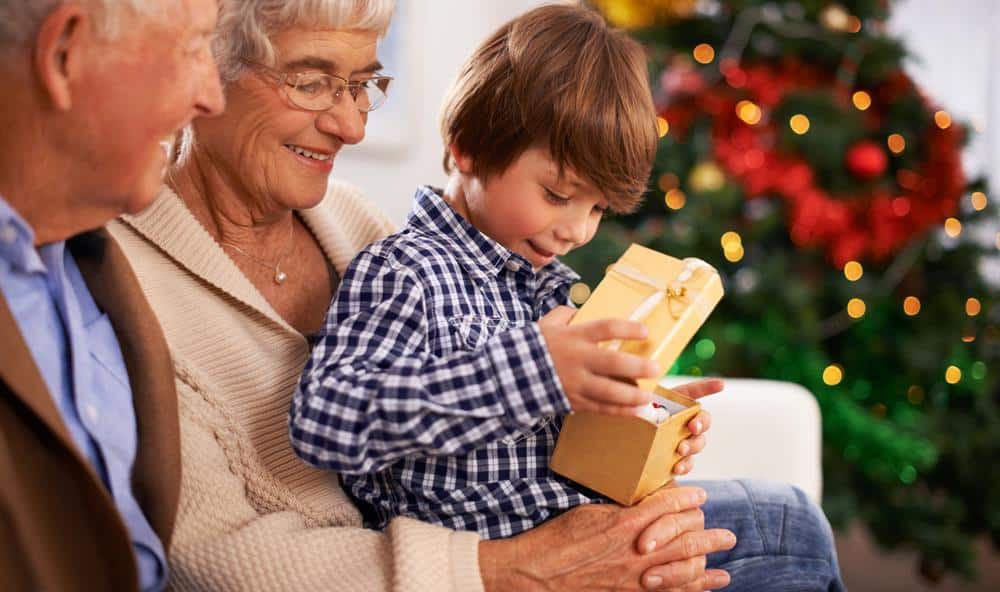 2020 gift giving guide for the grandkids
While every generation sees life from a different perspective, the relationship between a grandparent and a grandchild will always be a special one. One of unconditional love and endless questions! So when you're thinking of personalised Christmas gifts, you want to hit the mark.
There is nothing better than seeing their faces light up with joy and excitement as they unwrap their present from you – a far cry from the sighs and eyerolls you can get both from them and sometimes their parents, too. After all, today's hottest toy often becomes tomorrow's clutter. So avoid the latter this Christmas by following this helpful gift guide for grandkids.
The best way to get that happy nod of approval (from young and old), is giving the gift of time spent together, an experience, or education – all with an element of fun! Feros Care has a few tips to help you negotiate the minefield of both parental and childhood gift approval and the key to a very merry Christmas.
Before we go any further, the number one rule amongst grandparents that you need to know is that you should never assume! We've all had our share of unfashionable clothes that will never be worn and books that couldn't be farther from our interests – you don't want to give one of those gifts. Instead, ask the parents (or even the kids themselves!) what they would like. Communication is key, and the parents often know more than you might; they know the most popular gadgets, the newest kid trends, and the interests and likes of their offspring better than anyone.
Armed with some hints and ideas, you can now go on your gift hunt – don't worry, we'll help you out!
Give an experience
This isn't ground-breaking news, but experiences are often the best presents! They can give a grandchild something to remember for a long time to come, as opposed to a plastic knick-knack that gets lost in a mountain of other plastic knick-knacks, likely to be forgotten within 10 minutes of unwrapping.
A ticket to a theme park, a live show or play, or something special like feeding giraffes at the zoo will result in lasting memories that the grandkids will think back to in years to come. If you want to take it a step further, look into national museum passes or any upcoming concerts nearby. An experience will never disappoint, and mum and dad won't have an extra toy to put away every week.
Give the gift of quality time together
Choosing a gift to help close the generation gap and to connect with your grandchild can be very rewarding. One step up from an experience, do it together! There's no better way to create lasting memories and become even closer with your grandkids than by spending quality time together. Ask the parents about their children's passions, or choose a gift to ignite a potential new one. Think fishing trips, cooking or baking, or crafting classes, and attend them together.
If there's a hobby you enjoy, you might not even need to spend money on a class – gift your grandchild their own crochet needles and teach them the ropes. Who knows, they might have an instant talent and love for it, and that means you now share a hobby! This is the gift that keeps on giving – both to you and your grandchild, strengthening that bond even further.
Give the gift of knowledge
There is no denying that stores are bursting with useless, unimaginative toys nowadays, and these often end up in a pile at the bottom of a cupboard somewhere – making them both a waste of your money and extra clutter for the parents.
Instead, opt for a present that's not only fun, but also fosters learning and builds on the grandkids' interests. These presents will not only engage them for hours on end in something productive, but also help them in the development of skills that could come handy later down the line. You can find educational toys in any toy store, or better yet, you could opt for a subscription that keeps on giving. For example, Kiwi Crate sends out subscription boxes containing a fun new science project each month, and Bitsbox teaches coding through fun app projects – but there are many other options online.
By giving an educational gift this Christmas, you are sure to get the parental nod of approval – and some quiet hours as the grandkids busy themselves building robots and creating mobile apps.
Buy for the grandchild – but buy long term
Naturally, there are many other types of gifts that will elicit that hoped-for joyous grin. What's good to keep in mind in general is the longevity of the present and the little person you're buying it for. None of these ideas will work unless you keep your grandchild in mind while buying it.
If there are several grandchildren in one family, consider one fun gift for them all such as a popcorn machine or a slushy maker – which will get a hard workout all year round. Another winner is the trusty boardgame – not only can they be educational and aid your grandkids in developing strategic skills, buy they also require the whole family to spend time together. They are technically the perfect gift! Naturally, the type of boardgame will depend on the age of the kids, but you will be sure to score some brownie points for getting the themed versions of popular classics: Frozen Monopoly or Harry Potter Cluedo are safe bets.
Lastly, remember, if you're not up to visiting the shops – and who is at this time of year –you can buy almost everything online. Happy browsing, and may your Christmas be filled with many happy faces, unwrapping presents from the best grandparents in the world.