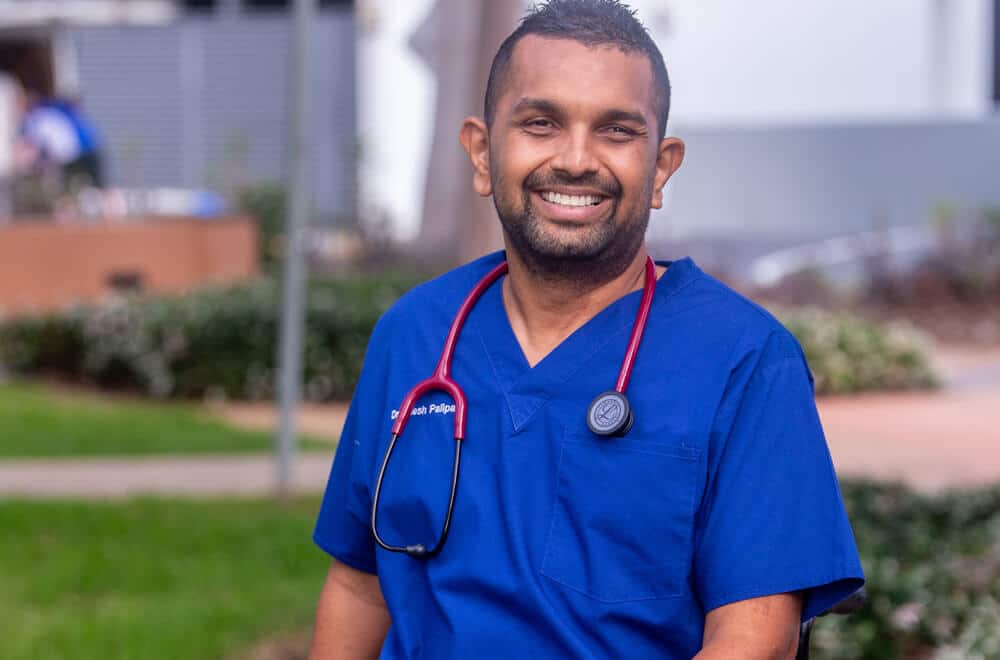 Boldness and belief leads to brave new world for Queensland Australian of the Year
Some break through barriers on their way to reaching goals, but newly crowned Queensland Australian of the year Dr Dinesh Palipana didn't break through them – for him, they simply don't exist.
Being awarded the honour as Queensland's 2021 winner is the culmination and recognition of a journey that took the 36-year-old from law graduate, to medical student and crash survivor with quadriplegia, to Gold Coast University Hospital spinal doctor and founder of Doctors with Disabilities Australia.
Speaking with journalist Pete Timbs and disability advocate Tristram Peters on Feros Care's Grow Bold with Disability podcast, Dr Palipana shared his journey to becoming Queensland's first quadriplegic medical intern, the second person in the country with quadriplegia to graduate as a doctor and the first with a spinal cord injury, who said, "I can and did", when so many said, "you can't".
"There's a lot of people that said I can't be a doctor… you'll never be able to finish medical school… you'll never be able to finish clinical rotations; the challenges were a lot from attitudes because
people were like, 'how's this dude who can't use his fingers going to be a doctor?'," Dr Palipana said.
"We have so many barriers in society, but it's about having the courage to push through and live the life you want. It's the best job in the world for me. I love everything about it."
The journey of courage for a boy who grew up in Byron Bay and Brisbane via Sri Lanka and graduated law before finding himself receiving an Order of Australia is one of determination in finding a calling and sticking to it against all perceived odds.
Ironically, it's the success and strides Dr Palipana has made in blazing a trail for people with disability which perhaps flips the script mainly on disbelievers for a boy who never had any intentions of going down the path he has.
"I never grew up wanting to be a doctor," said Dr Palipana, who graduated from Queensland University of Technology with a law degree before finding his true calling.
"I didn't really have a particular passion, and I think law was just something I thought would be good to do. But I became depressed and ended up finding my way into medicine, which I absolutely loved.
"I knew from the moment I started, it was just where I was supposed to be. I found my passion and life was really good."
Car accident changes everything
That passion never waned despite a life changing accident two years into his medical degree at Griffith University.
Returning to the Gold Coast on a wet night after visiting family in Brisbane, Dr Pailipana said he didn't see the black spot on the road until it was too late.
"I came up to this particular stretch of highway and I saw this little black slick or something on the road, but by the time I came up to it, it was too late to avoid it and I hit it," he said. As soon as I hit it, my car lost control
and it started spinning and spinning.
"Then it went up an embankment, came back off the embankment, and then started spinning. It was one of the most violent experiences I have had."
After the car came to a stop, Dr Palipana almost instantly understood the situation, which left him a quadriplegic.
"I realized I couldn't move, and my fingers weren't working anymore," he said.
"I tried to open the door and they just weren't obeying my commands, and then I put my hand on my leg and I couldn't feel my legs, so that was when I realized what had happened.
"I knew straight away, and it's a funny thing because you think about it medically but then you just come back to being a normal person, and you're just scared and terrified," he said.
"You just know that your life has changed forever, and I can't really explain that thought. It's just one of those really horrifying, sickening thoughts and feelings."
From accident to healing
Spending the next 7-8 months at Brisbane's Prince Alexandra Hospital, Dr Palipana "hated" being a patient and "disempowered" as a person who, up until the accident, obsessed over his appearance, but who was now at the
mercy of those looking after him.
"I didn't get to choose when I went to bed, when I woke up, when I ate, when I had a shower, and a lot of that was dictated through the day for about eight months… it was a really difficult thing," he said.
"I didn't look in the mirror for probably a year or two, and before the accident, I really cared about what I looked like," he said. "I never liked being vulnerable to the outside world. Suddenly, after the accident, I was on a bed
completely naked with tubes coming out everywhere, getting help with eating and washing and everything.
"You're just in this state where you are trying to come to terms with what's happened, and you're upset, and I had no choice but to be vulnerable. That was a pretty difficult thing, but it took me a long time to start feeling comfortable with
the world seeing me again."
Returning to his native Sri Lanka with his mother to hide and "heal his soul" proved a key factor in his return to Australia after seeing first-hand the level of care and support for spinal cord victims in the sub-continent country.
Providing him with motivation to focus on what he does have rather than think about what he doesn't have, gave Dr Palipana the perspective to re-join the fight to achieve what no other had before.
"It was a good time to heal my soul, but I also realised how lucky I am to be Australian," he said.
"[In Sri Lanka] I went to a hospital where they had people with a spinal cord injury, and the resources, support systems and structures are significantly different to what we have. So, they wouldn't survive that long, and they certainly
don't have a chance to get educated or employed.
"I felt super lucky, and also felt a duty to make the most of what I have, so, it gave me a bit of perspective that I think was really valuable."
Re-entering medical school, Dr Palipana, overcame not only physical challenges, but the challenges posed by others, who didn't believe in his ability to succeed as a doctor.
University policy change
The process even advanced as far as medical deans from Australia and New Zealand gathering to create a policy document that closes the door for medical students with sensory, emotive, psychological and auditory issues.
"It was in 2015, just after I came back to medical school. I saw an email from a guy on the committee who knows me, who wrote that the policy should allow (them) the legal protection to exclude someone with a disability from studying medicine,
or exclude someone already in medicine with a disability from continuing, or something along those lines," Dr Palipana said.
"That annoyed the hell out of me, and it also hurt. It's like racism, when you're attacked for something you can't help about yourself."
But using it as a spur on, Dr Palipana went on to give input into the committee that's rewriting that policy to be more inclusive, as well as making his way through medical school and graduating in 2016.
Life as a quadriplegic doctor
Becoming an emergency doctor, Dr Palipana has smashed any barrier in his way, earning the respect of all in the process.
A favourite among patients who never discount his ability, Dr Palipana has been a key speaker and advocate for medical education and disability.
A member of the Perry Cross Spinal Research Foundation's scientific committee, he has also set a course for assisting those with spinal cord injuries in the future, through pursuing research.
Loving his career, Dr Palipana combines it with growing bold in facing his fears and fighting for a future for not only himself, but for others.
And for the Queensland Australian of the Year, that's what being bold is all about.
'It's the best job in the world for me; I love everything about it, and I love the people most of all," he said.
"Those moments where you connect with people and you play a part in their journey, and you share that special moment is just awesome. It's challenging, it's unpredictable, and it's varied… I really feel like I'm
doing something where I can just help the community, which is a privilege.
"We have so many barriers in our heads, we have fears, and we have so many barriers in society. You don't necessarily have to have a disability, but it's more pronounced when you do.
"I think being bold is about having the courage to face those fears and push through to live the life you want. To do something valuable and to give something back, I think that's being bold, and I think we all need to be doing that."
To listen to Dr Palipana's episode on the Grow Bold with Disability podcast, click here.