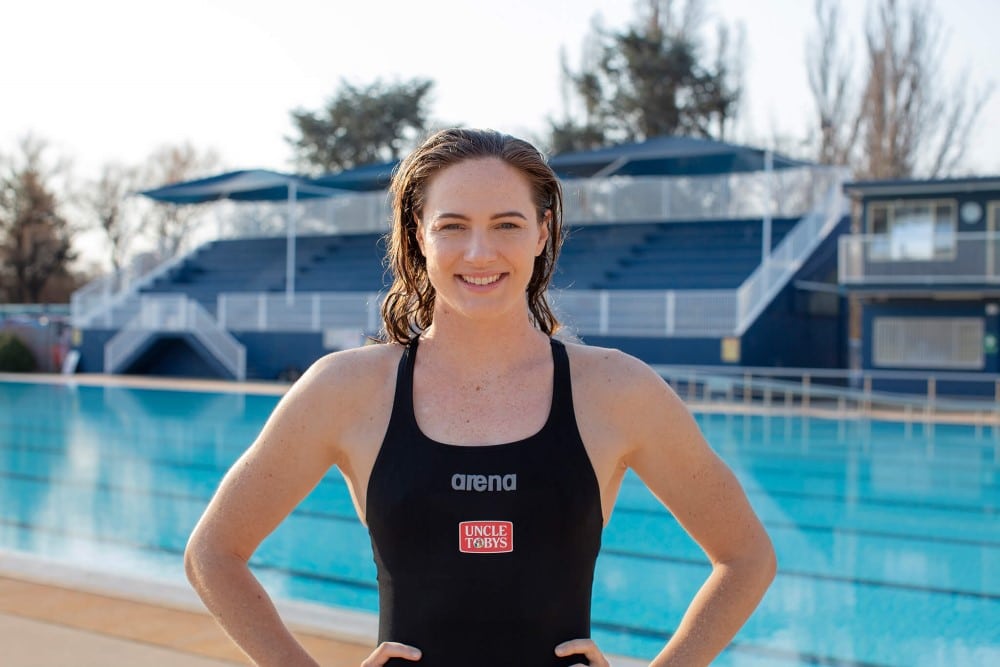 Care for a sibling spurs on swimming champion
SWIMMING SENSATION CATE CAMPBELL'S TALENT, DEDICATION AND TRAINING HELPS HER TO SET HER SIGHTS ON GOLD MEDALS, BUT OUTSIDE THE POOL, IT'S COMMITMENT, LOVE AND CARE FOR HER BROTHER WHICH HELPS FRAME HER VIEWS ON LIFE.
While synonymous with courage and bravery as a multiple Olympic, Commonwealth and World Championships gold medallist, Cate is also part of a family unit caring for her brother Hamish, a unit which provides her with extra motivation.
Speaking to journalist Pete Timbs and writer, editor and disability advocate Tristram Peters on Feros Care's Grow Bold with Disability Podcast, Cate details her journey with Hamish, who lives with Cerebral Palsy and requires around-the-clock care, which is where she believes her strongest qualities have been built.
HOW COURAGE, BRAVERY AND DISABILITY DRIVES CATE TO RISE TO THE CHALLENGE
"When we talk about disability, there is so much courage and so much bravery, whether it's the person who's disabled, whether it's the carers, whether it's the physios who work with them or the hospital staff," Cate said.
"For me, it's about challenging yourself, challenging society, challenging perspectives, and I think that Hamish definitely does that."
Born and raised in Malawi, Cate, along with her three sisters and parents, have been on a journey of growing bold with Hamish for 24 years, embracing all challenges in the process.
That journey, which in 2001 detoured to Australia in search of better care and support options has led to a better life, but was grafted from almost insurmountable odds, when Hamish was stillborn in a hospital without adequate equipment.
"He was born without a heartbeat, and he suffered massive oxygen deprivation at birth, which caused brain damage," Cate said.
"As a result, he has cerebral palsy… there were no ventilators and he had to be airlifted to South Africa within a couple of hours of him being born so that he could get medical treatment there.
"He was quite epileptic, so, he would have seizures, and there just weren't the facilities in Africa to cope with that. Mum fell pregnant with my youngest sister, Abigail, and they just kind of said 'it's just not safe for you to have another baby here', just in case something happened.
"So, my parents, with four children and mum, seven months pregnant, moved all the way around the world and landed in Australia."
As fate would have it, while Cate had learnt to swim through her mother Jenny, an ex-swimmer, it was a move Down Under for the betterment of Hamish's life which, after seeking out a slice of Australian culture in joining a local sporting organisation, led her to competitive swimming.
Cate, now 28, made her first Olympic team when she was sixteen and has had the same coach since she was nine. While dealing with the fear of losing races, the fear of losing Hamish is an ever-present reality for Cate, who has always helped care for her brother despite her swimming career.
"He's had some pretty horrible and pretty complicated health battles, and the fact he's alive and still kicking on at 24 is a miracle," she said.
"Mum and dad are his primary carers, but we've all helped out… we'd feed him or change his nappy and our care revolved around playing with him and including him in day to day life.
"We always made sure he was front and centre in all our family gatherings, but when you're caring for a disabled person, in some ways your life does revolve around them.
"He probably only operates on the level of a one to one-and-a-half-year-old, and to go away for a weekend, we have to make sure the house is wheelchair accessible. He has quite severe health complications, so we always need close contact with a hospital, and we have to make sure we have all his drugs available.
"But I would often take him shopping and if I went to do something and Hamish couldn't do it, we'd find something else to do. If we went on holidays, we'd always make sure half went out adventuring and half stayed to look after Hamish, and then the next day we'd switch.
"I don't call it a burden, it's a responsibility shared across many people… I can't imagine being a single parent with a child with disability because that responsibility is on you 24/7, so, we've been lucky in that we have a group of really supportive people and we all want what's best for Hamish."
HOW SUPERSTAR SISTERS' CATE AND BRONTE CAMPBELL'S HEROICS IN THE POOL RESONATE WITH HAMISH
Although non-verbal, Cate said Hamish had his own way of communicating with her and the family, and has found happiness in combining his care with enjoying Cate and sister Bronte, also a World Champion and gold medallist, taking on the best in the pool.
"He makes noises, and we kind of understand from the noises what he is wanting, but he has always been able to pick up on the energy in the room, and so, he always loves being in the thick of things," Cate said.
"During the Commonwealth Games, his favourite song would be the Australian National Anthem because he was able to feel all the energy in the room. Whenever you call home, he doesn't get the concept of phones, but you talk to him and mum says he smiles and when you're around him, he senses your presence."
With her parents ageing, Hamish now does respite care three days a week, which Cate said had proven hard on her mother. Also hard is the fact Cate relocated to Sydney over a year ago, which has limited her opportunities to assist with care and to enjoy visits, particularly in the 2020 climate.
"My parents probably haven't been away together, just the two of them since 2013, and I had booked in to go up (to Brisbane) and take care of Hamish, but the border shut," Cate said.
"So, there are lots of sacrifices everyone has had to make, but Hamish is a part of our family and has really shaped us all in so many ways, and has been a very central part of our lives and our makeup."
That shaping of Cate has also framed her drive, spurring her on to be at her bravest.
Not just a brother, Hamish has also helped Cate to continually challenge and push herself right to the top of the sporting world.
"I try and challenge myself on an almost daily basis, but I think that Hamish has helped challenge the way that I view life and hopefully go through life," Cate said.
"I think he's taught me to be kind, considerate and compassionate, and I feel like I face life more boldly because he is in it.
"So yeah, he's pretty wonderful."