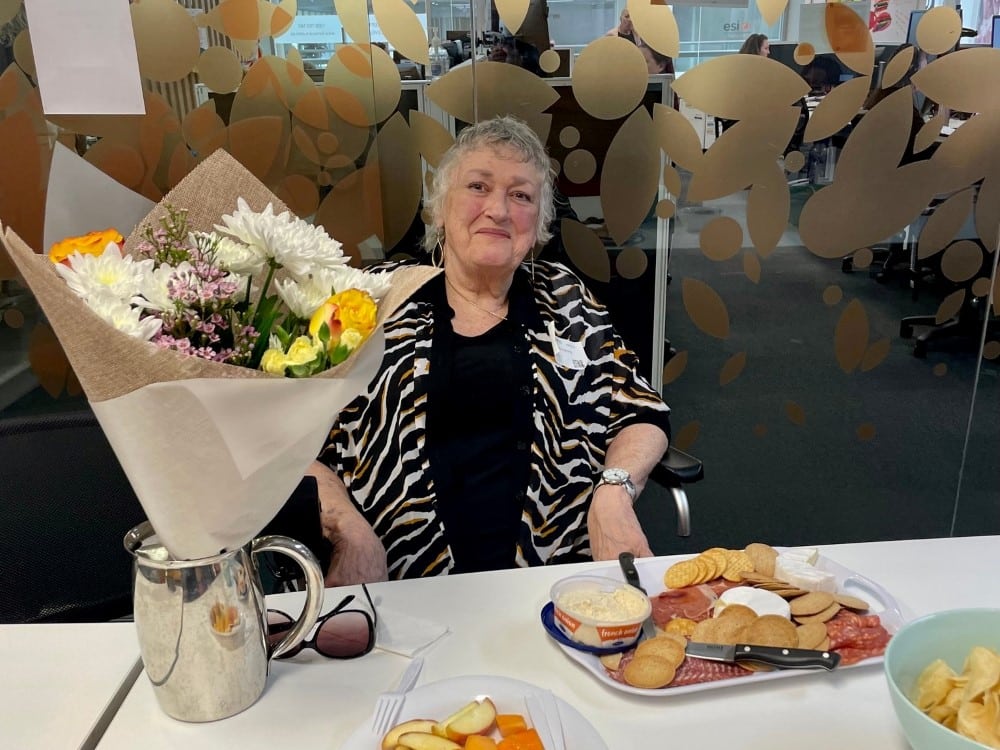 Feros Care client of 14 years inspires innovation
It's not often that we get visitors to the Feros Care office, but when we do, we're very happy to have them.
76-year-old Pamela has been a Feros Care client for 14 years on a Level Four Home Care Package, the highest level of care. Pamela has been asking to come into the office, and last week her Wellbeing Manager Russ arranged the trip for her.
The team were waiting with treats and flowers for Pamela, who had a grand tour of the office and a great catch-up with everyone she speaks with on a regular basis. ⁠"I love coming in to meet everyone," Pamela said. "I'm talking to them all the time, so it's nice to put a face to the people you're talking to."⁠⁠"The team has been very good to me and the services have been wonderful." ⁠
Pamela first learned about Feros Care when she suddenly found herself in hospital after a medical episode that left her heartbeat going at over 200 beats per minute.
"I'd never been sick, never really been in hospital except to give birth to my children. One day I got up and I couldn't breathe," Pamela explained.
"After ten days in hospital, someone came around and asked me if I lived alone. They said that Feros Care could help me. And just before I went home, I was put on a level four Home Care Package. I didn't know until after I got there what a level four even was."
Despite being so new to the home care package process, Pamela worked with her Wellbeing Manager to discover all the services available to support her in continuing to live independently.
Pamela moved into a retirement village on the Gold Coast which has services and facilities for residents, such as a hairdresser, pool, arts studio and library.
Feros Care continues to support her with daily care workers, and Pamela met all the team members who answer her phone calls, or take care of the rostering of the care workers.
Pamela has also supported us in return over the last 14 years by trialling many of our offerings and offering her feedback.
This includes the MyFeros client portal, a free online support system for Feros Care clients, and our Telehealth Remote Monitoring program, which allows clients to keep in regular contact with their health team without having to leave their phone. "The whole reason we have the MyFeros portal is because of Pamela, because she wanted to know who was coming and when, and she would call us every morning," said Russ, Pamela's Wellbeing Manager.
"She was part of the development process and isn't shy about giving feedback!" ⁠
Sure enough, thanks to clients like Pamela, any Feros Care client can now log onto MyFeros to view upcoming services within their time windows.
"I just love Feros, I've trialled a lot of stuff," Pamela said. "And it's been so nice to come in and put a face to the people you're talking to."