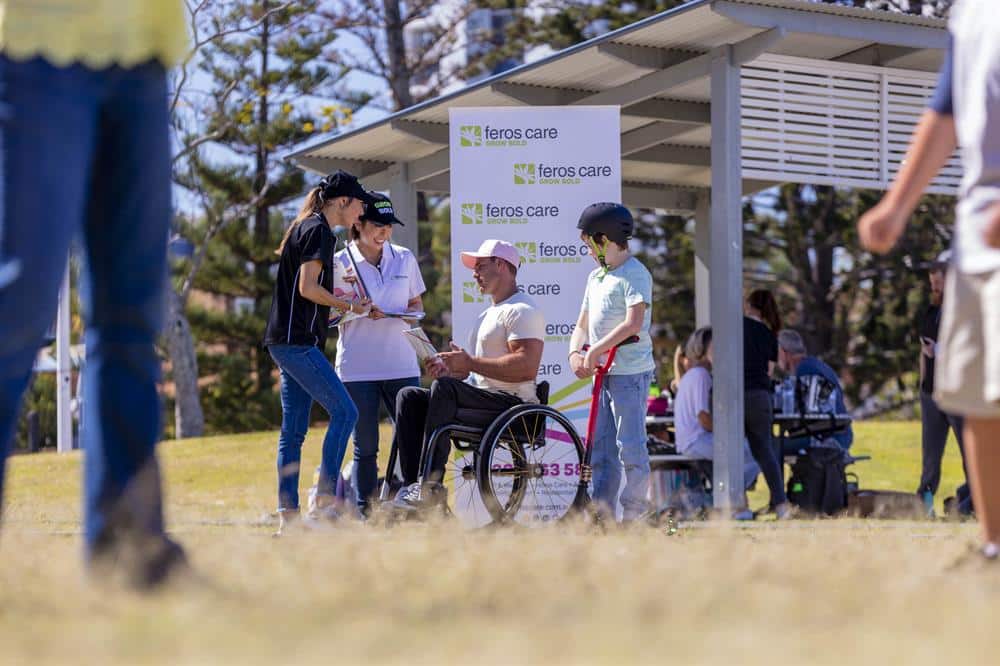 Long road, a labour of love for Bec, ILC Coordinator at Feros Care
Hitting the road to see the fruits of her labour, National Information Linkages and Capacity Building (ILC) Coordinator Bec Chivers gets a first-hand look at the crucial link she plays in assisting people to live their best lives.
Having a strong background in disability services, Bec spent 20 years with the New South Wales Government in Family and Community Services and established an LAC program with St Vincent's, before making her way to Feros Care just over a year ago.
ILC projects help to link people with local services
In her current role, Bec has overseen the roll-out of 15 ILC projects across Feros Care's five service areas of Adelaide, the Barossa Valley, the ACT, Townsville and Mackay.
A crucial cog in the engagement and sustainability of the National Disability Insurance Scheme (NDIS), all ILC projects are focussed around building the capacity of people living with disabilities, their families and their carers.
"The ILC is around providing information on the NDIS and mainstream and community services and building capacity for individuals to navigate their service systems so they're able to advocate for themselves," Bec said.
"It builds confidence in people to have choice and control on what services they have, who delivers them and how they want to manage their services.
"For communities, there's so many amazing services available and it's also about being able to support people to access those services and encouraging communities to come up with local solutions, projects and strategies around local issues and local needs."
ILC connects a diverse group of people
A major focus of ILC projects is also to connect with hard to reach groups in Aboriginal and Torres Strait Islanders (ATSI) through a Pathways Project, which provides culturally appropriate referral pathways into the NDIS based on the development of culturally appropriate resources and kinship model.
ILC projects also focus on the Rainbow, Culturally and Linguistically Diverse and Homeless communities and those living with psychosocial disabilities.
Allowing for "organic" and less structured conversation to those had over Skype or on the phone, Bec said seeing the LACs work at grassroots level and the fruits of the ILC's labour impacting upon communities and individuals was a rewarding experience.
"In a two month cycle I'd get out to South Australia, ACT, Townsville and Mackay and getting out and seeing it all in person makes the work we're doing very real," she said.
"Doing it face-to-face reminds me of why I wanted to work in the disability sector and coming out and working with local organisations, communities and individuals who've got such diverse backgrounds and have overcome so much in their lives is a very humbling experience."
Feros Care is leading in the ILC space

Bec Chivers, ILC Coordinator

Crucially, the ILC program has made giant strides over the last year and Bec sees big things ahead.
With "exciting" growth and plenty of work to come, Bec said ILC will continue to form a framework for the long-term success and sustainability of the NDIS, as it reaches full operation nationally from this year.
"The ILC has a very big part to play in inclusion and access and there's been significant improvement in the ILC space in work Feros Care has done over the last 12 months," she said.
"Some of the projects we have for this year are exciting and I think it's only going to grow as we move forward."
For more information on the NDIS, click here.