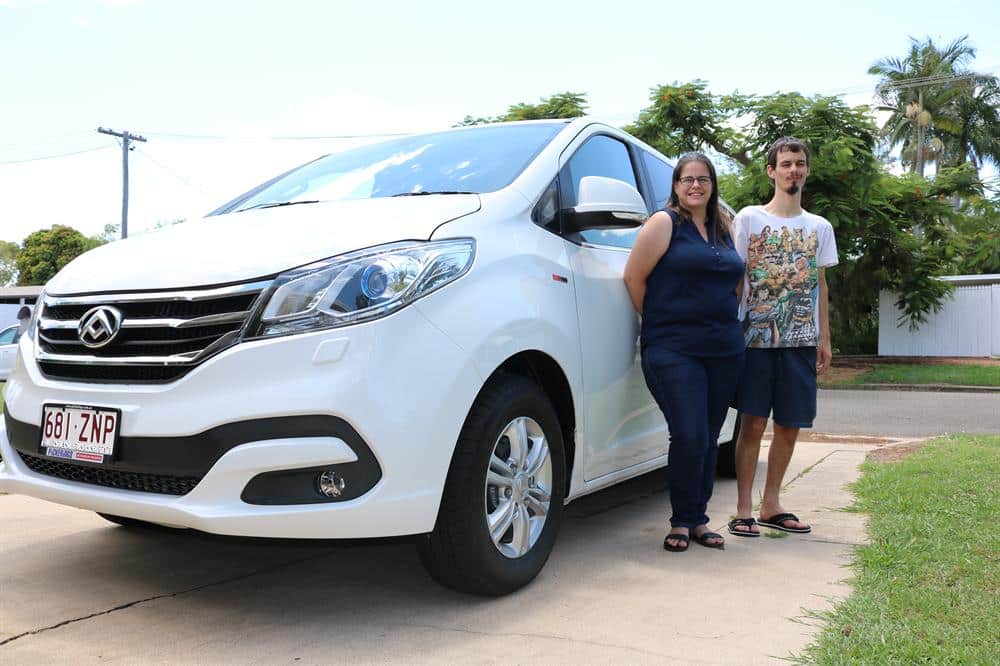 New wheels have family rolling on right track
A four-year quest resulted in pinch yourself moment for a Townsville family, after a letter of support from Feros Care helped lead to the delivery of a brand-new vehicle.
From broken windows and battling severe heat to bucket seats and keeping cool in air conditioning, Jade Gilchrist and her family are now on the road to living their best lives.
Courtesy of a shiny new LDV G10 van funded by Rotary, Jade and her boys, Alexander, Joshua, Xavier, and Elijah, and brother Matthew are on the right track, after Jade's four-year quest to try and update the family's car culminated in the pinch yourself moment.
Planning for independence with a disability
What started with letters written to Rotary by Jade and Feros Care Local Area Coordinator (LAC) Marie Nelson in a last-ditch effort to find some help, led to the delivery of the brand-new car in early February.
"It's changed everything… I've already had to fill it up again, and that's how much we've done," said Jade, after having the car for just under a week.
"We've been able to go to and from school, appointments, and even went to the water park… I'd been putting that off as normally after thirty minutes, they'd be begging to go home, but in a car that's air conditioned and not cramped like before, the boys are settled and it's amazing.
"Also, we're able to go out and visit friends, we went for a picnic as well, and just being able to fit stuff into the car is great."
Rewind back to before Christmas and prior to her seven-seater van with four bucket seats, arm rests a walkway from front to back, working windows, reverse cameras, and crucially, air-conditioning, things weren't looking as positive for the Townsville mother.
Making do with her old Ford Territory, the single mother's ability to build the capacity of her four children as well as brother Matthew, who she also cares for, was severely limited.
The positive impact of the NDIS on participants' lives
Matthew, 25, Joshua, 15, Alexander, 13, Xavier, 11, all live with autism and attention deficit hyperactivity disorder, while Xavier is also dyslexic, and Alexander is home schooled.
Jade's youngest boy, Elijah, 5, also receives NDIS funding.
While strides had been made through working with Marie to organise Matthew, Joshua, Alexander and Xavier's NDIS plans, the addition of the new car had proven a giant step.
"We didn't like to go anywhere in the old car," Jade said.
So bad was the situation, the kids would fight due to no airflow, driving on the highway was too loud, everyone would get wet when it rained and all battled sweltering heat.
"We tried buses; Alex is scared of the bus, and we couldn't get to soccer and appointments at the same time… so we just couldn't do it on the bus," Jade said.
"But we can now with this bus."
Already seeing major changes, Matthew, who is completing a Certificate I in carpentry, is able to be picked up after work rather than ride home, while all the boys want to go riding, and can, with their bikes fitting into the car.
Alexander, who would previously refuse to go out, is now happy to travel in the car, and will even do his homework while Jade heads into the shops.
"It was hard to feel like I deserved help as there are more people out there that need it more than me, but I sent an email to a friend who'd received a car last year, she told me to send an email to Rotary and see what happens," Jade said.
"It was never 'please give me a car', but it was sort of my last-ditch effort to see if I could get some help.
"I printed out the Feros Care letter of support from Marie and I think that played a big part. It helped with showing the board the need for support is there, and the car was approved."
Pickerings Auto Group handed the keys over during a special presentation honouring "Project Jade" in February, and with her hopes answered, Jade couldn't thank Townsville Sunrise Rotary Club members enough for their hard work and efforts.
Watching on during the presentation, Marie cried tears of joy and said seeing the family receive the car was very rewarding.
"Coming out for the boys' planning over the last nine months or so, you realise there's much more going on and it's a unique situation. You meet Jade and know it's a very worthy situation," Marie said.
"She is amazing, and I'm sure Rotary saw that, and when she and the boys need assistance with their NDIS planning process, I'll be there."