Sport is key to the lives of many Australians, and there's a shift towards making it more inclusive – but what does true accessibility really mean for people with a disability wanting to get on the field, or the court? Here's a hint: it's probably not what you think.
Tristram Peters has the wheels of change starting to spin.
31-year-old Tristram is a writer, editor, host of the Feros Care 'Grow Bold' podcast, and a passionate powerchair footballer who has played for the Australian Poweroos.
Tristram has helped develop powerchair football as a sport in the Asia Pacific Oceania region, sitting on the board and recently representing Australia at the Powerchair Football World Cup. He's one of many working towards a collective shift in how society views 'inclusion', especially through the lens of sport.
And Tristram knows inclusion better than most. As an infant, he was diagnosed with the genetic neurological disorder known as Spinal Muscular Atrophy (SMA).
One of his most powerful memories is of himself as a young child in a wheelchair, playing school-yard soccer. Goalkeeper was his favourite position.
Photo: Tristram (left) playing powerchair football with competitor
"I used to stop the ball by throwing myself in harm's way and stopping the ball," Tristram says.
"Sport is the greatest leveller for me. It was a way in which I could discard my disability and compete with people with similar experiences, enjoying all that it brings."
Sport, Tristram points out, is something that's deeply embedded in Australian culture; but we're not quite there when it comes to disability.
According to disability inclusion organisation UnOther, as of 2021, more than three in four Australians are unsure how to act towards people with disability.
That's 78% of the population.
"We really need to encourage everyday Australians to understand that people with disability are not one homogenous group. We're as diverse as everybody else," Tristram says.
He encourages everyone – whether it's an individual, or a school, or an organisation – to take the time and find out what people living with disabilities want rather than assuming their wants and needs are the same.
"We need to break away from this notion that everyone in a wheelchair wants to be treated in the same way. We're all unique individuals – talk to us and treat us as we say we want to be treated. Don't lump us all together."
And while there's been a shift in bringing disabled sport into the mainstream, largely thanks to the Paralympics, the biggest barrier doesn't lie with inclusion; it now lies with a lack of representation.
"We don't have people with disabilities widely represented in mainstream Australia," Tristram says.
"We need to build awareness and develop a broader understanding."
In short; while you might see the great stories about people with disability standing on podiums to claim medals, or representing Australia on the world stage, you don't see the everyday stuff. You generally don't see the kids in wheelchairs participating down at the local park, in the community league, getting the opportunity to have a go.
And you see few opportunities where people with disability and people without disability are brought together, in the one place, to play together. To experience the benefits of sport; making friends, being active, increasing confidence and being connected with others.
But there is movement in the air, being driven by disability sporting advocates passionate about creating a whole new future.
This is what it looks like.
In Adelaide, Nathan Pepper is on the front line of breaking down barriers and bringing likeminded people together through sport.
As the Disability Programs Coordinator for SANFL (South Australian National Football League), he's proud to continue the 31-year-old history of an inclusive league for people with an intellectual disability.
2021, SANFL oversaw the league in five Adelaide community clubs with 142 participants, and 2022 there will be seven clubs taking part with games from May until September.
"It's a very passionate comp and the players absolutely love it," Nathan says. "Players are aged 15 and older, with some players in their 50s. They mostly have an intellectual disability. Some have autism
or Down's syndrome or Cerebral palsy. Others have mental health issues from trauma."
He says the social connection and inclusion provides structure in people's lives, which has often been lacking.
"Some of the feedback is that a person might never have just talked about their feelings, but if you play wheelchair footy, then stories are shared.
"That's been a big positive. People come together and help each other out."
Photo: Men playing wheelchair football
All players are fully integrated in the club, and are embraced as players for the club. It's not separate. He says the clubs are also contributing to educating the wider community, with senior teams helping players in the inclusive league while simultaneously "changing their perspective on life".
The introduction of the NDIS, Nathan says, has allowed people to access their communities which – in turn – means people with a disability become more a part of their communities.
The organisation was also able to buy sport wheelchairs and a trailer through an NDIS grant last year, and started to run wheelchair footy games to teach all students about disability.
"We get them all in a chair, and then they then think about the stairs and the footpath and how people in a wheelchair navigate those things and that changes their attitude too.
"They're going to be future decision-makers and in positions where they can influence.
"We're hoping to create good people, who are caring people, which will go a long way to making sure we live in an inclusive society."
This is a concept known as Reverse Inclusion: an initiative pioneered by James Hill and Bridie Kean of the Suncoast Spinners basketball team.
It targets mainstream communities to broaden their perspectives of disability sports by encouraging them to play alongside those who have a disability. It's the same equipment, the same rules and the same court, providing a very similar experience for all.
"The importance of inclusion for me always comes back to this sense of belonging," James says.
"As human beings, we're always looking to belong. It's a basic need. Sport has such a powerful opportunity to provide this sense of belonging, and that's not in a sense of allowing those with disabilities to partake on the sideline or assist in an indirect manner."
James would like to see inclusion becoming a forethought as opposed to an afterthought in all aspects of the community – a win-win for all involved.
And there's more and more reverse inclusion to be seen throughout a range of sports, such as through SWISH table tennis, a sport rapidly growing in popularity.
SWISH tables are built with barriers on the sides so the ball can't roll off, and a board in the middle which the ball rolls under and to the other person. The balls have a bell inside which makes a sound when hit with the rectangular Swish bat.
Photo: Two people playing SWISH table tennis
The sport allows people with a vision impairment to play the game right alongside those without a vision impairment; the players without a vision impairment simply wear blindfolds to make it fair.
Feros Care recently brought a SWISH table to the Townsville Table Tennis Association, where it was a standalone event for the first time at the North Queensland Games.
The SWISH table events were run at the same time as the men's and women's open table tennis blue ribbon events, attracting spectators and players from all over Australia.
"Putting the SWISH tables in the middle of the table tennis hall shows that people with a disability are exactly the same as everyone else in the community – it's just that they don't get the same opportunities."
"It's about putting something in place where people can join in and enjoy the same benefits as any other member. SWISH tables are to be the vehicle that allows the coming together of people – that's how the idea evolved."
Inclusivity is only just starting to be considered by many organisations.
When Tristram was first diagnosed with Spinal Muscular Atrophy, it was 1996. He was only five years old. There wasn't the availability of resources to help him and his family adjust to life with a disability, and he didn't properly start to play sports until high school.
These days, it's different; Tristram takes wheelchair basketball into schools to give children the chance to experience life on wheels. The earlier they're exposed to it, the better.
"A lot of kids – through no fault of their own – look at me, and others in wheelchairs, as being wheelchair-bound," Tristram explains.
Photo: Tristram Peters, 5 years old
"The reality is, my wheelchair frees me. It allows me to go out and live my life."
"By involving the students, they're moving in a chair and playing basketball and in half an hour, they forget they're in a chair. It's an interesting shift seeing how their thinking changes."
It's the perfect demonstration to show kids how people with disability are just as independent and able as people without – sometimes more, and sometimes not as much.
Reverse inclusion, he says, embraces sport coaching and life coaching for students, and people themselves, to become advocates for the social model of disability.
"The powerful thing is it then gives everyone agency and power to say, 'Hey we can do better here – it's easy to make that change.'"
Photo: Young Tristram playing wheelchair hockey
These days, it's essential to get in early and show kids just what they can do.
With sport being such a huge part of Australian culture, being included in the sporting scene is equal to inclusion in a whole range of life's other environments.
And it certainly doesn't have to be on the level of a Paralympian- the benefits can be seen with even the youngest of children.
Carly Hennessy is the Community Development Coordinator for Feros Care in South Australia. From working with the community and understanding the lack of opportunities for people with disability, she worked with the team to create
the All-Inclusive Multi-Sports Mash-Up: a come-and-try program offering participants the chance to play netball, football, and soccer and athletics.
"It was completely inclusive and there were no age barriers. People with disability could play sport with their brothers and sisters," Carly says.
Photo: Group photo from the All-inclusive Multi-sport Mash Up program
"We adapted all the sports and we made sure the people coming understood disability and that they knew disability could be invisible as well as visible."
Football turns into walking football, with no running or tackling. Tennis is adapted based on the player, with softer, larger balls, additional grips or modified rackets available. Athletics is modified with smaller hurdles and hula hoops.
"We had five-year-olds playing with 40-year-olds. We had siblings playing, which was great, because some hadn't been able to connect with their sibling with a disability.
"We had one boy with autism who had only met his support worker a couple of days before, and it was amazing watching them bond over the sports."
Even the program's marketing structure was pulled together with the intent to encourage people with invisible disability, or mental health challenges such as anxiety and autism, to take part.
"People with mental health issues were more likely to come into the centre if there was a face – like that of the centre manager – on the flyer we used for advertising."
Carly knows just how important it is for people with disability to be able to advocate for themselves; by growing their personal confidence and building connections in their community, they're further empowered to have a
voice.
"We are empowering people to be able to say, 'This is what I'd like to do,' or 'We can all do this.'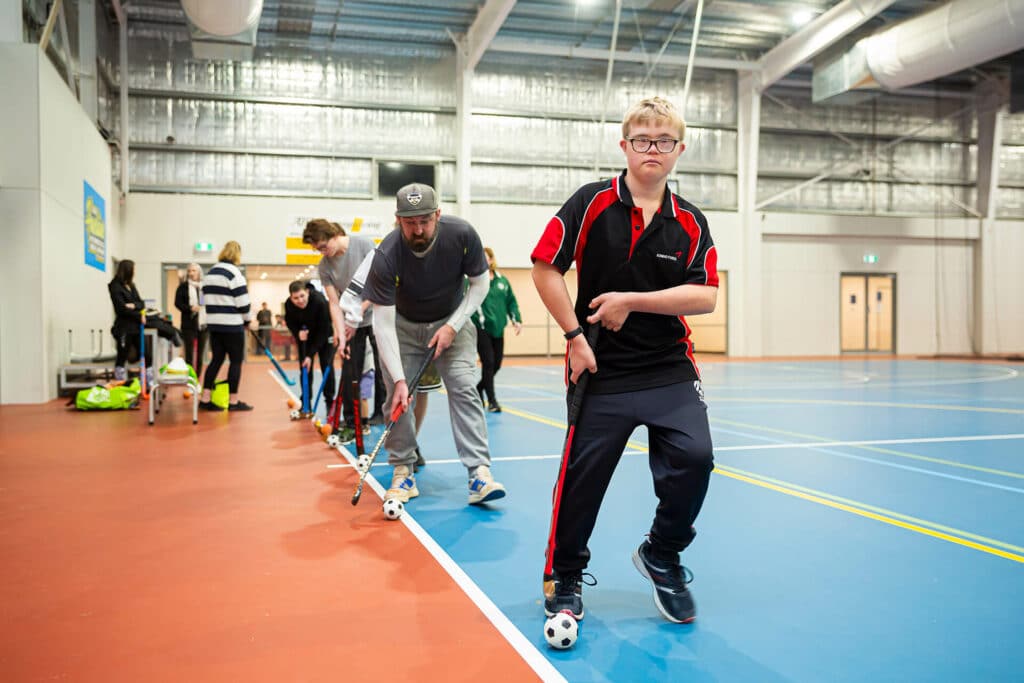 Photo: Person throwing hula hoop
Tristram has witnessed that empowerment through these 'come-and-try' days, which he says are the ideal way of introducing inclusive sport to communities.
"A few years ago, I had one four-year-old who had just started using a power chair," Tristram says.
"Just seeing him drive along with people with the same conditions, I saw his own realisation of – 'I'm not so different.' It's a sport, and when he goes to school he's going to have so much more confidence."
It comes down to what Tristram refers to as the 'dignity of risk'; understanding that everyone has the right to take risks to learn about themselves and their capabilities.
"If you remove that chance for a kid with disability to take a risk, then they never push themselves or push that boundary, and that's how we become better as people."
And deep down? Every child, in every school yard, should and will be able to compete if some simple changes are made – and those changes are made in front of everyone else.
"The young kid who thought, 'I can't play on the oval during lunch time,' might be the same kid who next week is able to speak up and say, 'I can play with you if I can go in goals.' He knows he can speak up and advocate for himself."
"In sport and through connections with our communities, we learn from people who have gone before us and walked that path of navigating disabilities. That can propel us to be okay and get out of that feeling of isolation.
"We can never underestimate that feeling of connection with community. You simply don't feel alone."
With thanks to:
Tristram Peters: Have a listen to his podcasts, 'Grow Bold' and 'What Are You Staring At?' You can also find out more about UnOther by logging onto unother.com.au.
James Hill: Check out his new podcast, 'Take A Seat', which is bringing awareness to disability sports and supports through
talking to experts and athletes with a disability from around the world. It is proudly sponsored by the Suncoast Spinners.
Nathan Pepper: For more information about the SANFL, log on to sanfl.com.au.
At Feros Care, we're proud to be one of the organisations working to generate a collective shift in how society views 'inclusion', particularly when it comes to sport. We're also proud to build connections with so many of the above advocates creating a whole new future defined by inclusion.