You want to live in your home, on your terms. We can help with that. We help you stay home, stay connected and stay in charge.
You can tailor your home care package to meet your individual requirements. And we grow with you: if your needs change, your home care services can change too. At Feros Care, we work with you, to support you through your home care journey.
What is a home care package (HCP)?
A Home Care Package is government supplied-funding for senior Australians needing care to stay independent at home for longer. To help meet the different needs of seniors' personal circumstances, there are four different levels of Home Care Packages, which range from lower level care – Level 1 Home Care Package, right through to higher level, more complex care – Level 4 Home Care Package.
Level 1 Home Care Package – Basic assistance designed to give you a little extra support to help stay independent. This HCP level might include one or two visits a week from a care worker.
Level 2 Home Care Package – Low-level assistance that gives you the extra support you need to stay independent. This HCP level might include three or four visits a week from a care worker.
Level 3 Home Care Package – Home care services for seniors who need more support to stay living at home. This HCP level might include visits from a care worker or a nurse most days of the week.
Level 4 Home Care Package – High-level home care suitable for people with high-level or complex nursing needs. This HCP level might include visits every day from a care worker or a nurse.
If you are eligible for home care funding, you can use it to access a range of services to help you at home, care for your health and increase your happiness. Find out the difference between a Home Care Package, and the Commonwealth Home Support Program.
Home care cost and eligibility
If you are over 65 years of age and are an Australian citizen, you may be eligible for support. To find out more about the eligibility criteria for in-home care please visit our FAQ.
The government sets the maximum basic daily fee at up to 17.5% of the basic age pension, depending on the HCP level approved. The amount may be negotiated with your chosen home care service provider based on what you can afford. To see our full list of prices, click here.
At Feros Care, we offer a free referral service, where we can call My Aged Care with you and help you to get the approval process started. To utilise this free service and begin speaking with your care guide please call us on 1300 090 256 and we'll call you back.
How can I start my home care package?
If you've already been approved and assigned a referral code for a Home Care Package you can start receiving home care services with Feros Care right away. Please give us a call today or fill in our contact form and we'll call you back to organise your services.
To get you started on your home care journey, please have a look at the different services and products you can spend your Home Care Package on.
I want to switch my home care package to Feros Care
If you are already receiving home care services from another provider, but wish to switch to Feros Care, please give us a call today or fill in our contact form and we'll help you through the process. We'd be delighted to discuss what services are important to you and provide you with support.
Choose from a wide range of services
From in-home nursing to cleaning and cooking, Feros Care has you covered with a wide range of home and community services designed to help you stay happy, healthy and independent at home for longer.
House Cleaning
Keep your home looking spick and span. We can help with cleaning, laundry, changing linen and ironing.
Yard - Lawn Mowing
We can mow the lawn and do a spot of weeding for you. Perhaps the veggie patch needs maintenance or there are new plants to be potted. We're here to help.
Shopping
Let us do your shopping for you. Make out a list, point us in the direction of your favourite shops and we'll be back with bags in hand before you know it.
Home modifications
Changes to your home to improve safety and access e.g. ramps and rails.
Smart Home Technology
Turn your home into a Smart Home with emerging technologies that suit your lifestyle. We collaborate with you to make your life more comfortable, enhancing your quality of life.
Personal Care
Help with showering, dressing, personal hygiene and hair and beauty routines. Look and feel your best with our help.
Podiatry
We will come to you to help with feet and nail care – from cracked heels to calluses, or toenails that need attention. Can also recommend orthotics and footwear.
Nursing
Nursing care is available when you come home from hospital or need ongoing help with a chronic disease. Home visits or links via technology provide updates and advice.
Massage
Relax and de-stress with a massage to help you feel better and brighter. This can help with pain management, relaxation and sleeping.
Occupational Therapy
An OT can suggest home modifications, equipment and tools to help you stay safe and independent. From grab rails to sensor technology, we've got you've covered.
Physiotherapy
A physiotherapist will provide support as you recover from an injury or illness. Regain your strength and mobility, access suitable aids and manage pain.
Dietetics
Our dietitian can help you make healthy eating choices and demystify nutritional jargon. Make small changes to your diet for big changes to your health.
Exercise Physiology
An exercise physiologist will provide exercises to increase fitness and vitality. Regain strength and mobility, join fun-filled group programs and learn to manage pain.
Technology Training
Technology TrainingFace-to-face technology training for seniors to build digital capacity and confidence in technology. Our flexible training sessions are delivered based on your own pace, goals, and learning style.
Client Training
Whether you need to get to a doctor's appointment, a pharmacy, the bank, or even lunch with friends, we will get you where you need to go on time.
Social Outings
Stay active, connect with your community and socialise with new and old friends. We can assist with transport so you don't miss out on living life to the full.
Virtual Social Centre
Follow your passion, learn new skills, and meet wonderful people just like yourself in our vibrant online community.
Day Respite
Arrange for your loved one to stay at a day respite centre and take some 'you' time to recharge and refresh. We can provide transport to and from.
Estimate your home care budget
Find out what you could include in your Home Care Package with our Home Care Package Budget Estimator.
Did you know?
You can spend your Home Care Package funding on cutting-edge technology products and services. Reassurance is the best medicine, so why not invest in it?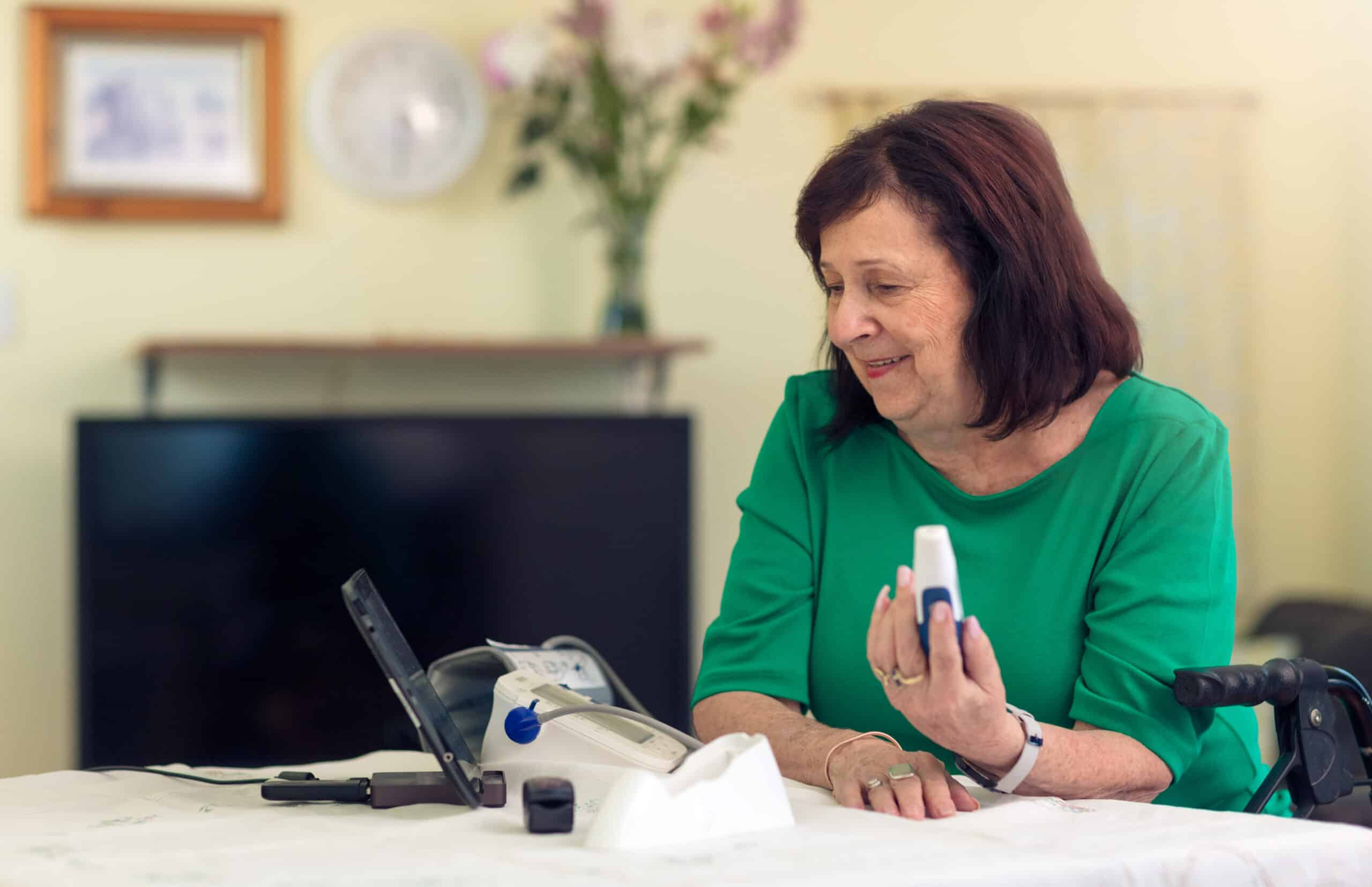 Not sure where to start?
We'll take you step-by-step through the Home Care Package journey and answer all your questions. Call us on 1300 090 256 or fill out the form and we'll call you back.