Winner of the 2023 Quality Service Award in Home Care Services – NSW/ACT
We are so excited to announce that Feros Care has been recognised as the best Home Care Service Provider in New South Wales and the Australian Capital Territory!
Over 2000 Australians voted in the Reader's Digest Australian Quality Service Awards, and last night, we were awarded their Gold Medal Award for Home Care Services, with Wellbeing Manager Caroline accepting the award on behalf of Feros Care.
Out of 12 home care providers, Feros Care was recognised as the best in delivering outstanding customer service, going above and beyond to exceed consumer expectation.
Voters were asked to identify excellence in five key categories: personalisation, understanding, simplicity, satisfaction and consistency.
The votes were run through company Catalyst Consultancy & Research, and brands were not prompted when voting, meaning that our community teams have well and truly made their mark on the clients they care for.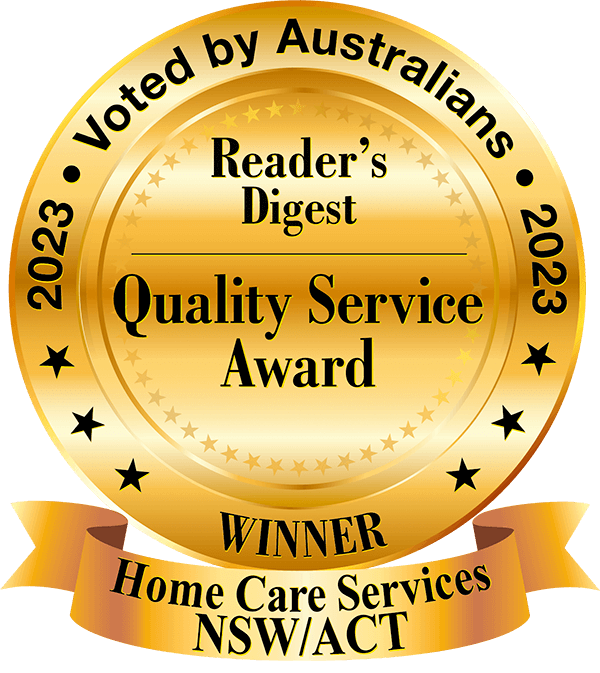 2023
Finalist in the Barbara Hocking Memorial Award – Community Section (Spreading the R U OK? Message)
2022
Winner of ACSA Aged Care Awards in the category of Unsung Hero
2021
Winner in the Australia Day Awards South Australia, Best Community Project – part of the project team for Barossa Cares website.
Winner in the NDIA Light Up Awards in the category of Making a Difference – Team for the Mackay Housing and Homeless Project
2020
Finalist in the Future of Ageing Awards in the category of Social Inclusion
Finalist in Awards Australia in the category of Community Achievement
Winner in the NDIA Light Up Awards in the category of Making a Difference – Team
Winner in the NDIA Light Up Awards in the category of Making a Difference – Individual
Winner in the Stevie Awards in the category of Great Employers (Covid-19 response)
2019
Finalist for the Social Media Marketing Awards in the category of Best Social Good Campaign for Fearless Films Season 1
Winner of the Australian Not-for-Profit Technology Awards in the category of Not for Profit Technology Innovator of the Year
Finalist for the MACA Award in Categories 1, 3, and 4 for Fearless Films Season 1
Finalist for the HESTA Aged Care Awards in the category of Individual Award
Winner of the Global Ageing Network Awards in the category of Excellence in Ageing
Winner of the Future of Ageing Awards in the category of Community Engagement
Winner of the CX Awards in category Best Use of Technology to Revolutionise CX
Winner of the Aged Care and Community Services Australia (ACSA) awards in categories Regional Provider of the Year and Innovation in Service Design
2018
Finalist in the Social Media Marketing Awards in the category of Best Social Good for our Grow Bold campaigns, including Pimp My Ride and Ask Gran Not Google
Winner of the Social Media Marketing Institute Award in the category of Best Motivational Video, for our 'Pearls of Wisdom' video
2017
Winner of the Gold Coast Business Excellence Award in the category of Health and Wellbeing for its innovative solutions that combine technology and aged care to improve the lives of seniors
Finalist in the Aged & Community Services NSW & ACT Volunteer Award
Our Falls Prevention Program was the Winner in the Australian Business Awards, Service Excellence category
Our 'As I Age Wall' was the Winner in the Australian Business Awards, Community Contribution category
2016
Our CEO Jennene Buckley was inducted into the Information Technology in Aged Care (ITAC) Hall of Fame, recognising her significant contribution to the use of technology in aged care
Our trainee Irene Collins was the Winner of Novaskill Northern Rivers Catering Operations Trainee of the Year
In a joint submission with Bay Medical, our eVillage in Byron Bay was the Winner in the Promoting Health Living category of the North Coast Primary Health Care Excellence Awards
Our trainee Tracy Bannerman was a Finalist in the Aged & Community Services NSW and ACT State Awards for Excellence
Our eVillage was a Finalist in Outstanding Organisation at the HESTA Aged Care Awards
Our beloved resident Jilli Richardson (96 years young) was a Finalist in the Seniors Week Positive Ageing Award
2015
Our eVillage was the winner of the Australian Aged Care Quality Agency (AACQA) Better Practice Award
Winner of the Exceptional Human Resource Management award at the Aged & Community Services NSW & ACT State Awards for Excellence
Our trainee Tracy Bannerman was the Winner of the Novaskill Northern Rivers Hospitality Trainee Excellence Award
Finalist in the MOA Benchmarking Community Service in Aged Care Award
Highly Commended in the Best Implementation of the Year category of the Information Technology in Aged Care Award
2014
Winner of the Outstanding Organisation award in the HESTA Aged Care Awards
Winner in the Aged & Community Services Australia (ACSA) National Aged Care Awards (Organisation)
For Staff Development and Retention, we were a Winner of the Australian Aged Care Quality Agency (AACQA) Better Practice Award
Winner of the Organisation Award in the Aged & Community Services NSW & ACT State Awards for Excellence
Finalist in the WorkCover NSW Excellence in Return to Work for Business
Our Chief Information Officer (CIO) Glenn Payne was the Winner of CIO of the Year in the CEO Magazine Executive Awards
Finalist and received a Judge's Commendation in the Leading Age Services Australia Qld (LASAQ) Excellence in Care Award
Our Chief Information Officer (CIO) Glenn Payne was the Winner of the Healthcare CIO of the Year in the iTnews Benchmark Awards
2012
Our volunteer Shirley Nelson was the Winner of the Aged & Community Services Australia (ACSA) Volunteer Award
The Feros Village Byron Bay 'Madagascar Project' was the Winner of the NSW Positive Living in Aged Care Award
Winner of the Large Organisation Award in the North Coast Region NSW Training Awards
Winner of the Organisation Award (Marketing and External Communications, and People Management) in the Aged & Community Services (ACS) NSW & ACT State Awards for Excellence
Our volunteer Shirley Nelson was the Winner of the Aged & Community Services (ACS) NSW & ACT State Awards for Excellence (ACSA) Volunteer Award
Winner of the Organisation Award in the Aged Care QLD Excellence in Care Awards
Winner of the Aged Care QLD Environmental Sustainability Award (Waste)
Our manager Gabriele Taylor was the Winner of the Not-for-Profit Manager of the Year in the Australian Institute of Management QLD Awards
Our manager Gabriele Taylor was Highly Commended in the Aged Care QLD Excellence in Care Awards
2011
Winner of the Corporate Citizenship Award in the Ballina Shire Business Excellence Awards
Winner of the Excellence in Ageing Services Award in the International Association of Homes and Services for the Ageing Awards
Finalist in the Organisation Award in the Aged Care QLD Excellence in Care Awards
2010
Runner Up in the Aged Care Association Australia's (ACAA) Employer of Choice Award
Finalist and Highly Commended in the Innovation in Information Technology category of the Minister's Awards for Excellence
2008
Feros Village Bangalow was the Winner of the Best Renovated Aged Care Facility in the Aged Care Association Australia Awards
Our manager Jennene Buckley was the Winner of the Excellence in Management Award in the Aged Care Association Australia Awards
Finalist in the Information Technology Award in the Aged Care Association Australia Awards
Winner of the Organisation of the Year in the Not-For-Profit Network Awards
Our Northern Rivers Primary Palliative Care Project was the Winner of Project of the Year in the Not-For-Profit Network Awards
Our CEO Jennene Buckley was a CEO of the Year Finalist in the Not-For-Profit Network Awards
Our staff member Robyn Schneider was a Team Member of the Year Finalist in the Not-For-Profit Network Awards
Finalist in the Project of the Year in the Not-For-Profit Network Awards
Community Gateway was a Winner in the Aged and Community Services Australia Awards for Excellence in Technology
Community Gateway was a Winner in the Information Technology in Aged Care (ITAC) Awards
Community Gateway was a Winner of the Technology Award in the Aged and Community Services (NSW & ACT) Awards
Finalist for Professional Services in the Tweed Business Excellence Awards
2007
Feros Care was a Finalist for Organisation of the Year in the Not-For-Profit Network Awards
Feros Village Byron Bay was a Finalist and Highly Commended in the Aged Care Association Australia Residential Care Award for Excellence
2006
Winner of the Aged Care Association of Australia Excellence in Management Award