At Wommin Bay we cater for 70 residents with varying care and support needs. As a residential aged care facility, we provide assistance with basic care, through to full assistance for those requiring extra support for dementia. More complex nursing and daily living requirements can also be met as part of our residential respite care services.
A key focus of the Village is strong bodies and mobility. You can take advantage of our daily exercise program or chat to our physiotherapists and positive living team about how you can continue to be active within the Village and in the community. We call our award-winning approach to residential aged care the Byron Model of Care.
Kingscliff Beach is only 500 metres away via a timber walkway and the Cudgen Sport and Recreation Club – popular with many of our residents – is a short walk across the field.
A 15 min scooter ride along cement pathways will see you arrive at the Kingscliff shops and cafes. You can also jump on the weekly Feros bus if that's more your style. The Tweed Hospital is close by should you need it.
Activities and social outings at the Village are complemented by personal interests and developed from residents' feedback. If you have a particular passion or interest we'd love to know.
Wommin Bay Village is a nursing home providing long-term (permanent) and short-term (respite) aged care. We joined the Feros Care family in July 2012. Let us help you stay healthy, active and connected as you live life your way.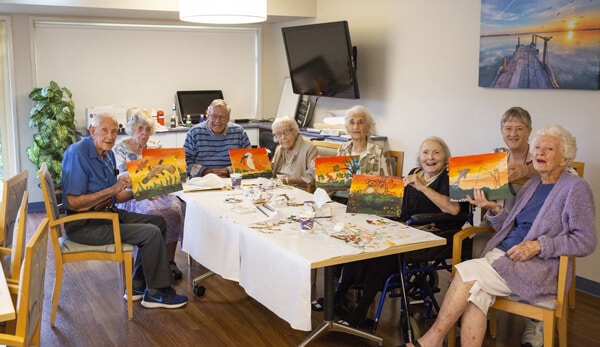 The bedrooms
Wommin Bay Village has single bedrooms with ensuite bathrooms and built in wardrobes. A bed, bedside table and sitting chair are provided however we actively encourage you to give the room a makeover.
Bring in as little or as much as you like. Change the curtains. Update the linen. Make room for that special piece of furniture you love. It's important you feel at home. We want your personal space to reflect your taste, not ours.
Most bedrooms have a front and back door. The front door entry is via the house. The back door takes you into the garden and your personal terrace. Every bedroom has its own aspect and outlook, with natural light and a spacious feel.
On the terrace there's room for your plants, garden furniture or perhaps a bird bath. If you're a green thumb there's a garden bed ready and waiting – both at your door and beyond – for you to work your magic.
Facilities & Services
Wommin Bay Village is home to 70 residents and offers all the amenities you'd expect of a residential aged care facility and more. There is a weekly onsite hairdresser – for the men and the women. You can grab a massage, aromatherapy and other alternative therapies in our massage room.
Our goal is for you to keep active and enjoy life. Opt to take part in daily activities at the Village or join your friends on the weekly bus trip to the shops or community events. From BBQs to happy hour, art sessions and music events, there's always something happening at Wommin Bay.
Life in our Villages
At Feros Care Residential Aged Care Villages, we work on making life worth living by supporting you through the challenges that can come with ageing – loneliness, helplessness and boredom.
We're here to help
Whether you have questions, feedback or a complaint, we are here to listen and to help you.
Give us a call on 1300 090 256 or fill in the form below.