A residential aged care facility, the Village caters for seniors who can no longer meet their own needs independently and require extra care and support. Nurses and carers are on hand around the clock to help with bathing, mobility or eating, if that's the level of care you need.
As well as personal care there's a big focus on strong bodies and mobility. You can take advantage of our daily exercise program or chat to the physiotherapists and positive living team about how you can continue to be active within the Village and in the community. We call our approach to residential aged care the Byron Model of Care.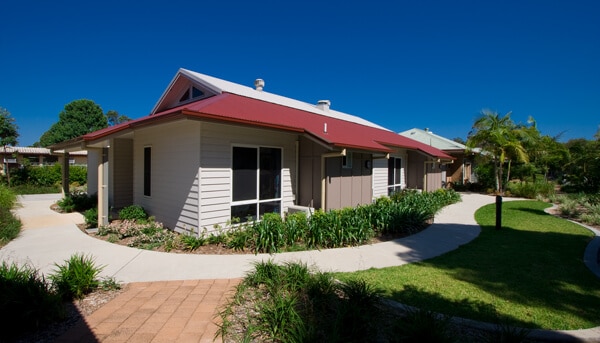 The complex is built around a series of courtyards as well as indoor and outdoor spaces. Resident rooms form cottages that flow into larger community hubs. Fresh air and natural light are plentiful.
Like all great homes, the lounge, kitchen and dining areas are the heart of our Village. There's always something happening and someone to talk to. Happy hour on Friday afternoon is guaranteed to attract a crowd.
Alternatively, if solitude is more your thing there are plenty of quiet spaces too. Settle into our comfy nook with its record player and records, or take advantage of free WIFI in the technology and computer space.
Activities and social outings are complemented by personal interests and developed from residents' feedback. If you have a particular passion or interest please let us know.
Our Residential Aged Care Village is across the road from the Bangalow Bowling Club and next door to a medical centre, with access to physiotherapy and hydrotherapy. Lismore and Byron Bay hospitals are close by.
Bangalow Village is a nursing home providing long term (permanent) and short term (respite) aged care. We have operated since 1997. Let us help you stay healthy, active and connected as you live life your way.
The bedrooms
Bangalow Village has a combination of single and double bedrooms all with ensuite bathrooms and built-in wardrobes. The large double rooms are perfect for a couple and can also suit a person who prefers to have company.
A bed, bedside table and sitting chair are provided however we actively encourage you to give the room a makeover.
Bring in as little or as much as you like. Change the curtains. Update the linen. Make room for that special piece of furniture you love. It's important you feel at home. We want your personal space to reflect your taste, not ours.
Resident rooms form cottages that flow into larger community hubs. Fresh air and natural light are plentiful. All our bedrooms have large windows overlooking gardens or the fields beyond.
Facilities and services
Bangalow Village supports 64 residents and a number of lovable pets. As a residential aged care facility, it provides extra support and 24 hour nursing care for residents who are no longer able to live independently.
Care can include assistance with personal care like showering, dressing, grooming, hygiene, meals and eating, rehabilitation, medications, treatments and communication aides.
In addition, Bangalow Village also has an onsite hairdresser, spa room and 'Healing Space' for massage, aromatherapy and alternative therapies. Our friendly volunteers even provide manicures and hand massages.
You can opt to take part in the daily activities at the Village – BBQs and happy hour are always a hit – or join your friends on regular bus trips to the shops or community events. Our aim is to keep you connected and enjoying life.
To help with the transition of moving into our Village, our orientation and support specifically focuses on people who suffer from memory loss or confusion.
Life in our villages
At Feros Care Residential Aged Care Villages, we work on making life worth living by supporting you through the challenges that can come with ageing – loneliness, helplessness and boredom.
We're here to help
Whether you have questions, feedback or a complaint, we are here to listen and to help you.
Give us a call on 1300 090 256 or fill in the form below.