At Feros Care, we have been supporting Australian seniors grow bold for over 30 years. Everything we do is designed to help you enjoy life in your own home for as long as possible. This ensures that you live the life you want to live, with plenty of support along the way for anything you might need.
We can help with residential aged care, home care, aged care technology, veteran's services, community care, or getting you back on your feet after a hospital stay.
And because we're a not-for-profit organisation, owned by the community, you can rest assured that we're here for only you. Our aged care services are about ticking the goals that let you Grow Bold. Here are just a few of the ways in which we can help.
Struggling to keep on top of chores? We might talk about support with laundry, cleaning, pet care and more.
Hoping to be in less pain? Physiotherapy or exercise physiology might be a good fit for you.
Wanting to be more connected with family? We'll loop you in with a program to learn some new skills.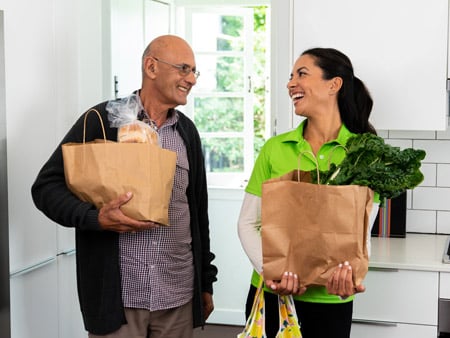 Not sure where or how to start?
Download our comprehensive guide to aged care to find out which government funding is right for you.

Learn more about how we can help
Sign up to our newsletter
The latest Feros Care news delivered straight to your inbox