As an organisation, we pride ourselves on innovation. We anticipate the future and set ourselves ambitious goals so that we not only meet your needs but exceed all expectations.
We don't just settle for second-best – if there is no obvious solution, we don't stop until we find one that works for you.
Here's what we're proud of, and what you can expect from us.
We put you first
It's not only your care that we care about, but your life. Your goals. Your aspirations.
It doesn't matter what service or program you're wanting; our promise is to always find out what's important to you and how you want to live. Then, together, we work out a plan of services to help you achieve your vision.
We're happy to say that this approach works. We've received many awards for it, including being recognised as the best Home Care Service Provider in New South Wales and the Australian Capital Territory in 2022 through the Reader's Digest Australian Quality Service Awards.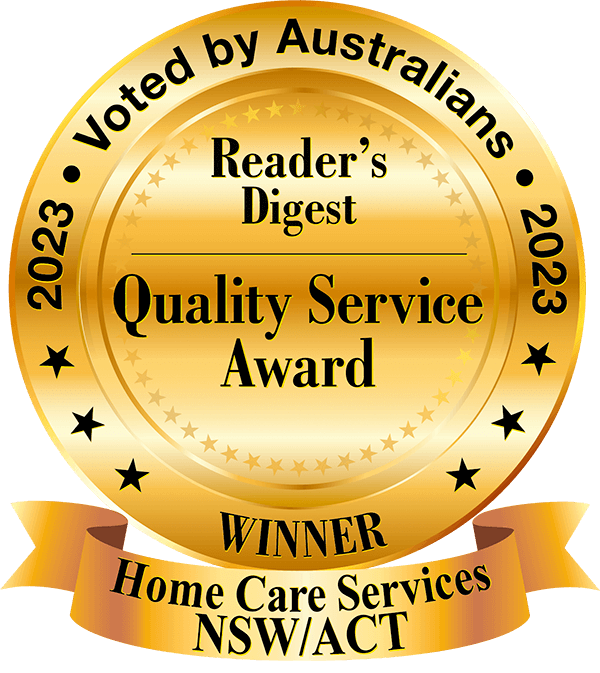 Our care principles
We have a unique set of care principles that we consider when setting your goals and recommending the most appropriate services.
Preserving dignity
The life experiences of all people are valued and deserve respect.
Promoting holistic wellness
Focus on people as a whole person; wellbeing involves the mind, body and spirit.
Empowering lifestyles
Empowering people to live the way they want by offering service choices.
Encouraging independence
People's rights to self-reliance are encouraged by every means possible.
Involving family and friends
Involvement of extended family and close friends at every opportunity.
Community citizenship
People are encouraged to remain active participants in their community.
Not just team members. People.
Sometimes it's the little things that can really make a difference to your day. Walking your dog. A nice meal. Going fishing for the first time in a long while.
That's why we go out of our way to choose team members who are passionate and energetic about what they do. They are sincere, filled with care and respect, and can bring a little fun and laughter.
It's all about genuine care and genuine relationships. And here are just a few of the stories our clients regularly share with us.
The latest in care technology
There's nothing like feeling safe, independent and connected at home. And at Feros Care, we make the most of today's technology to ensure it works well for you.
Relax and feel secure knowing that one of our automatic personal alarms is on the job if you have a fall or are too sick to get out of bed. Or keep a daily check on your health without having to leave home, using our remote monitoring system.
There's also our MyFeros Client Portal, a free online support system for clients that puts you in control of your services. Or our Virtual Social Centre, a vibrant online community which lets you stay connected with book clubs, cooking classes and more.