A photo exhibit showcasing seniors who should be seen and heard
A project in conjunction with Katie Hooper Art
Visible Me is a photographic collaboration project between Feros Care and Katie Hooper Art, bringing together 29 seniors across Northern NSW and QLD to share their intimate life stories and challenge society's view around 'becoming more invisible' as you age. The portraiture series shows the contrast between feeling invisible (in black and white) and seen (in colour), with each image reflecting the individual's unique personality. Each participant (par one) involved in the project is over eighty years old, having experienced many heart-felt moments, overcome challenges, and developed meaningful connections with others throughout the course of their lives. The stories are told through the seniors' voices, as if they were speaking directly to you in an intimate one-on-one conversation – allowing them to share their own truths, and the opportunity to feel SEEN and HEARD.
THE GALLERY
Visible Me is a visual and auditory exhibition showcasing the stories of 29 seniors.
Click on the portraits below to reveal the colourful artistic photography of each senior. Listen to or read their story while you observe the details in each photograph.
All images in the Visible Me project are the copyright of Katie Hooper Art.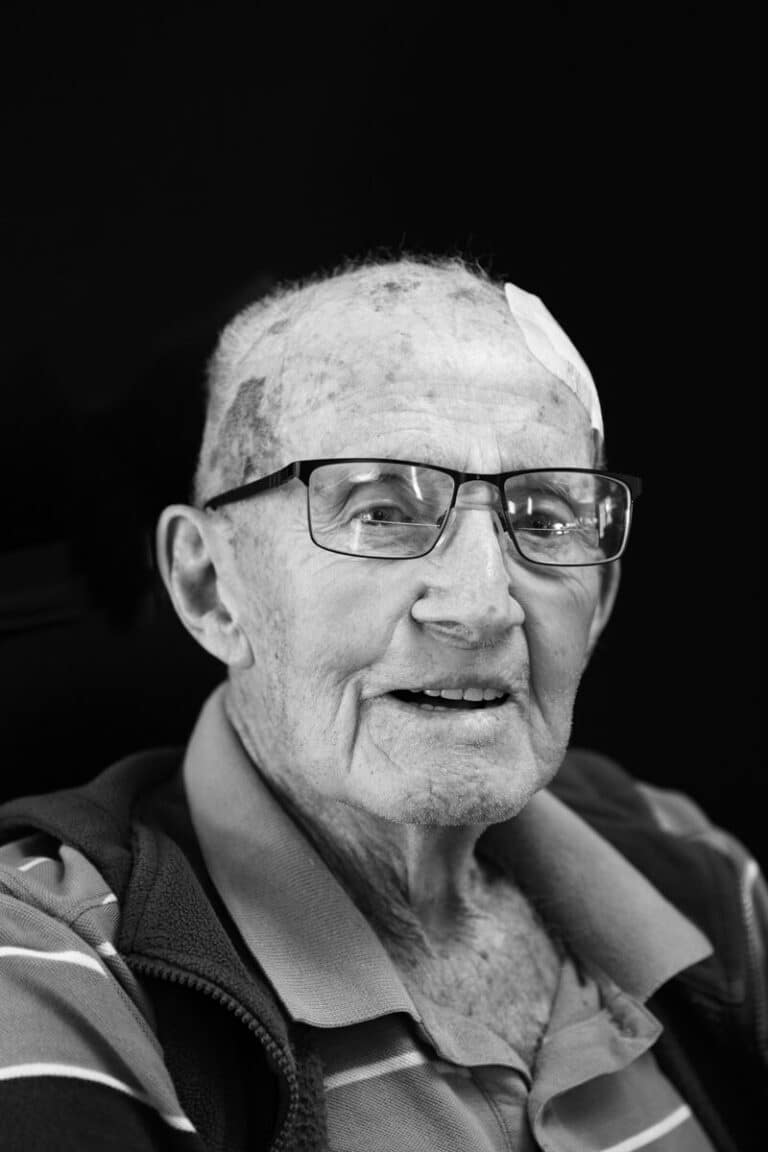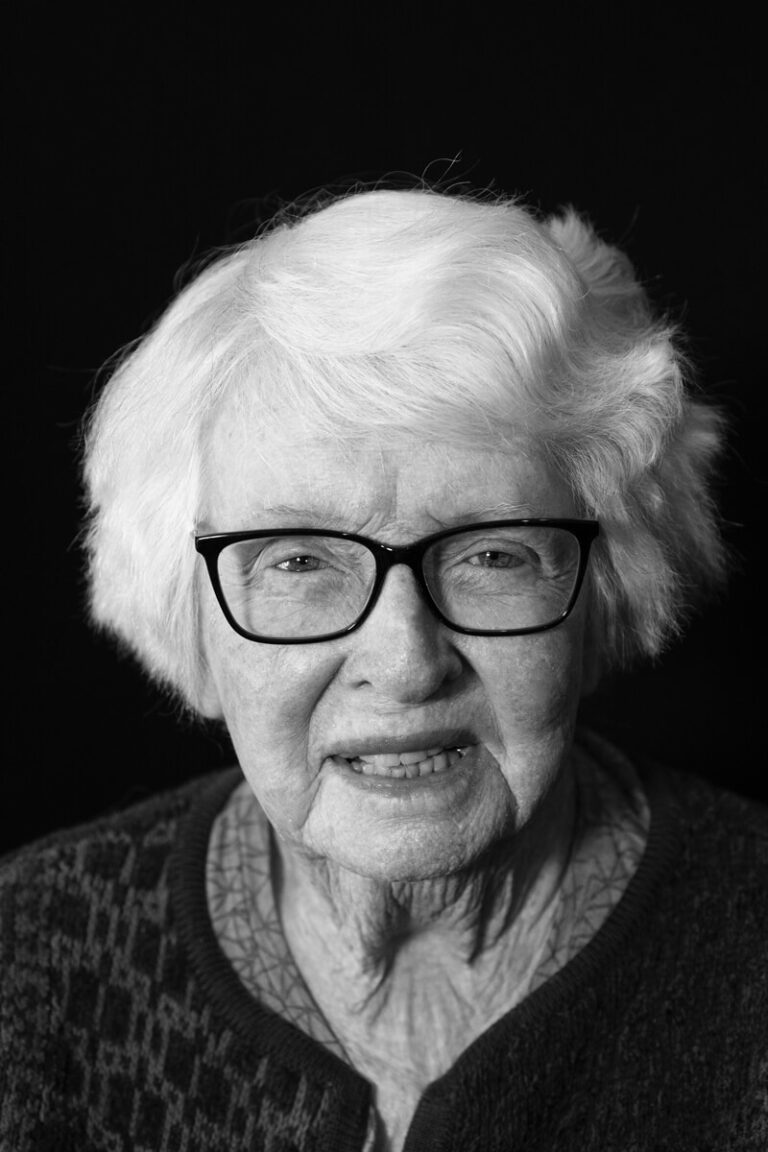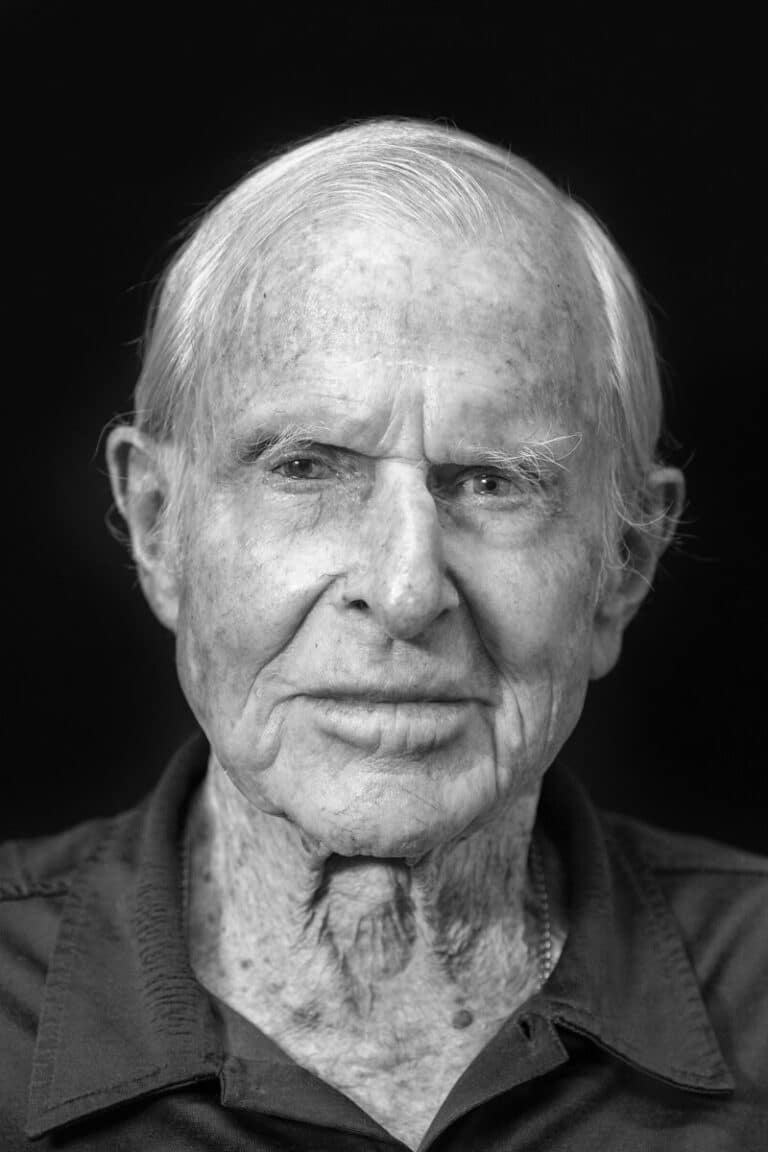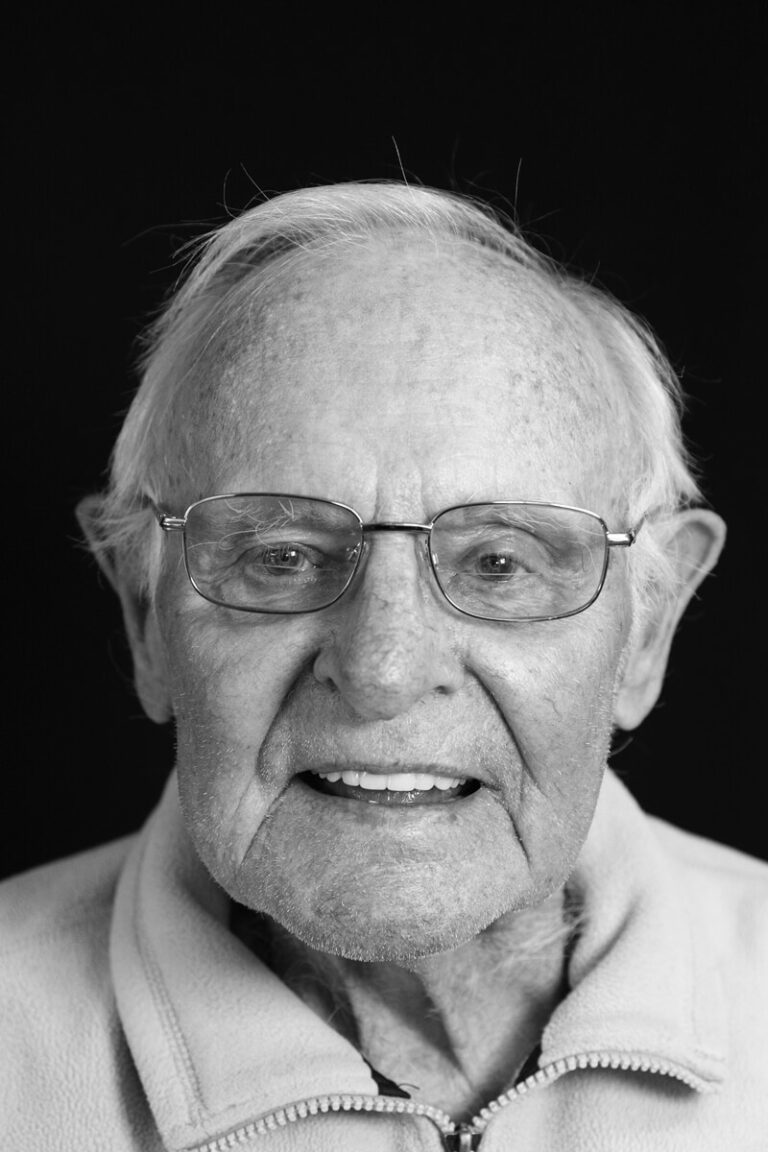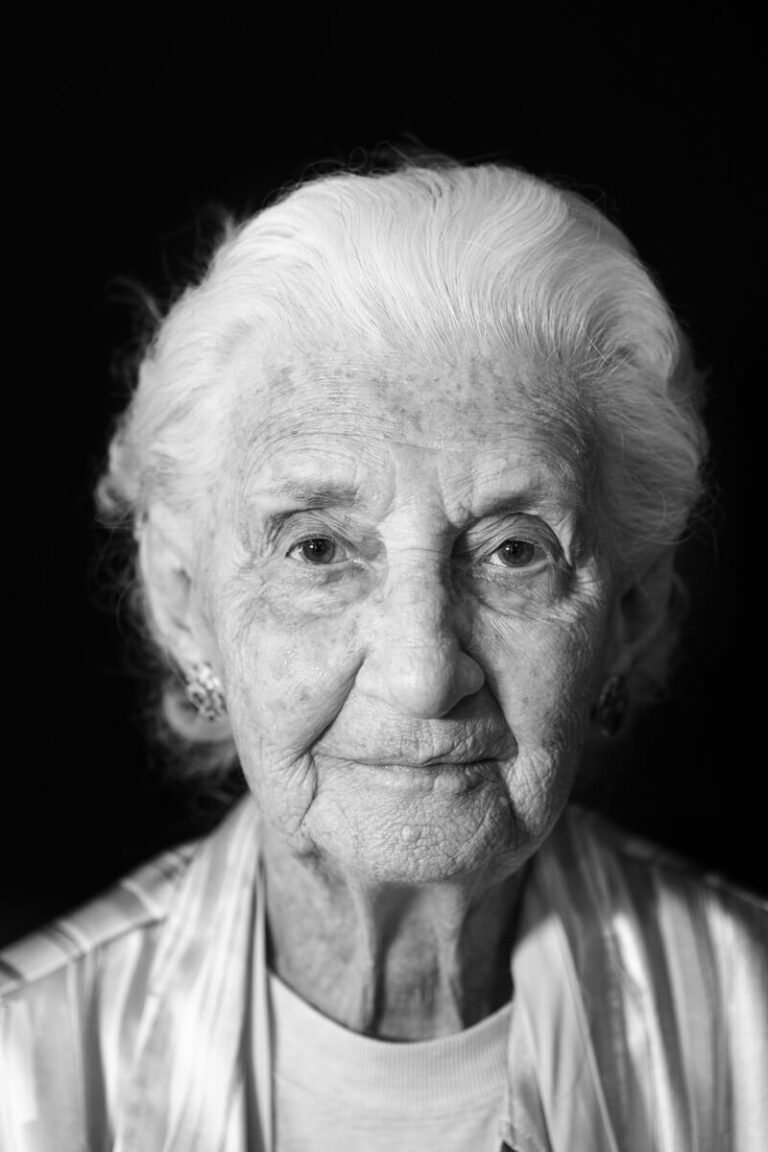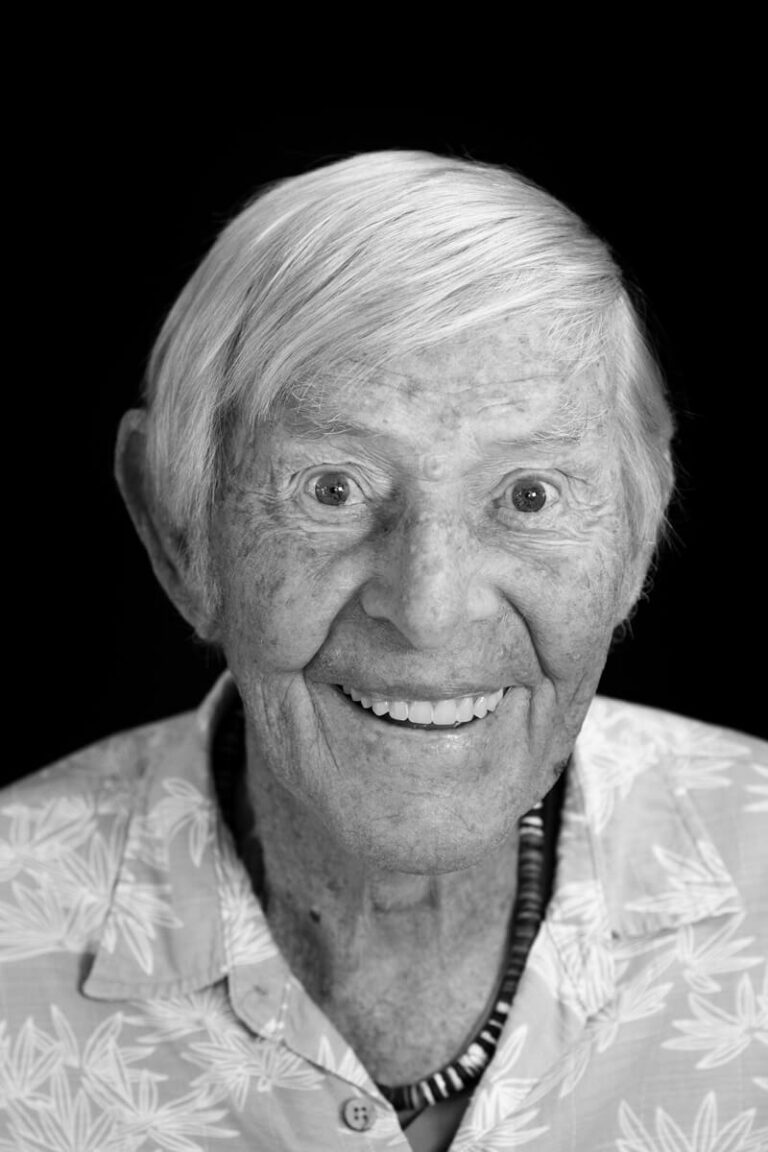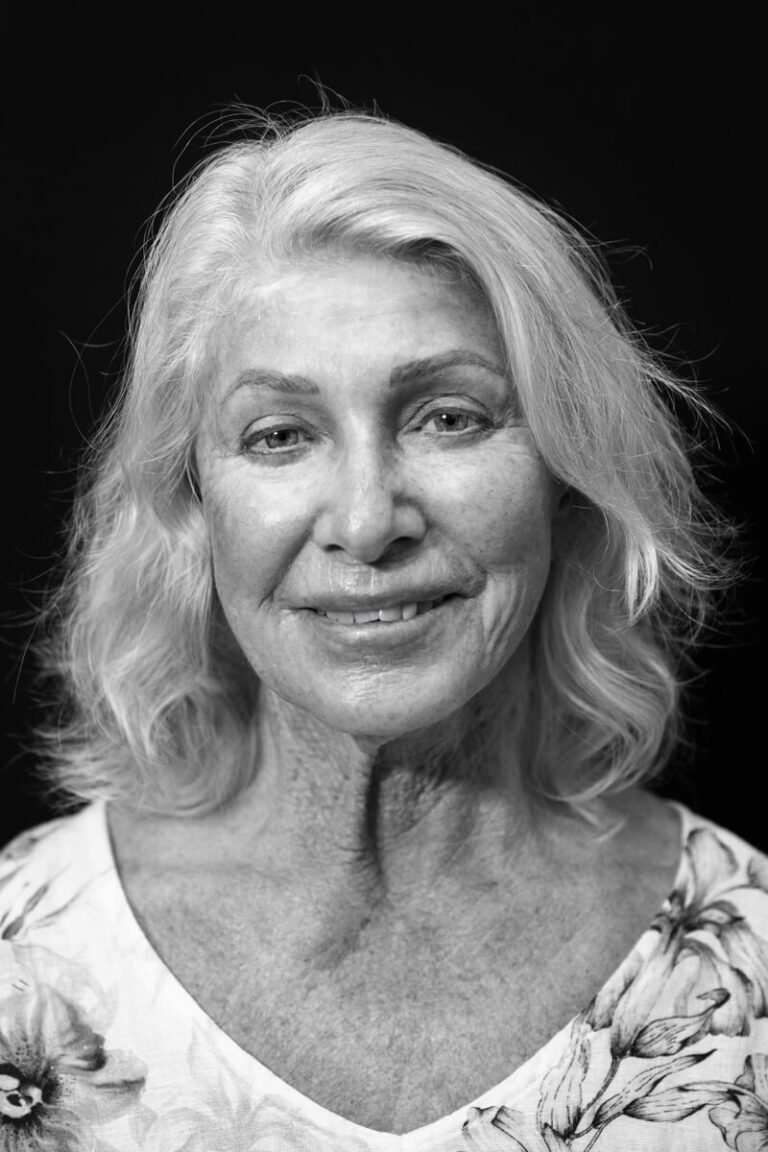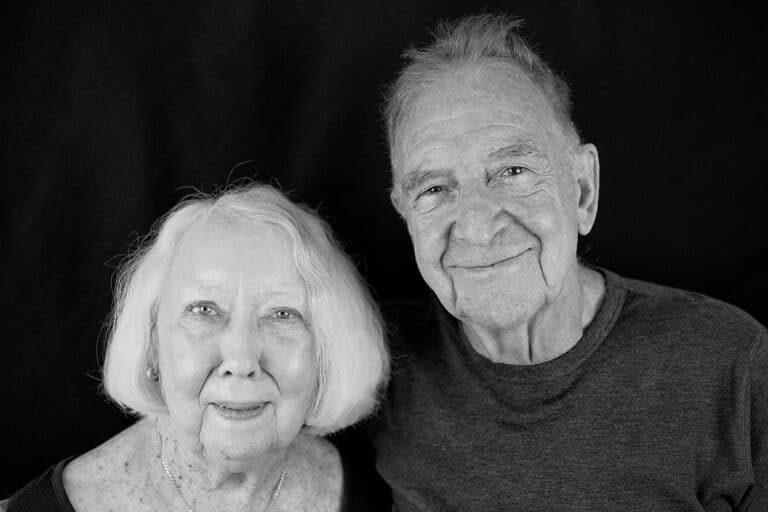 Jan Flower and Aaron Blomeley Jan Flower and Aaron Blomeley, 83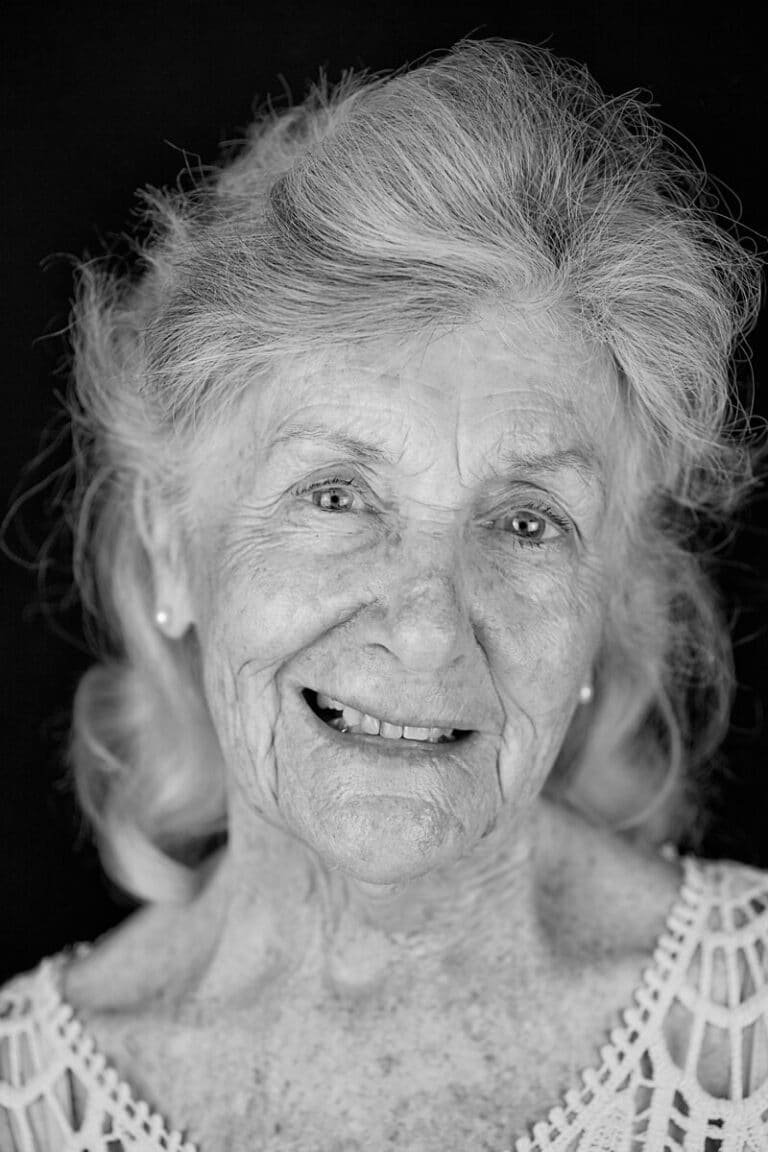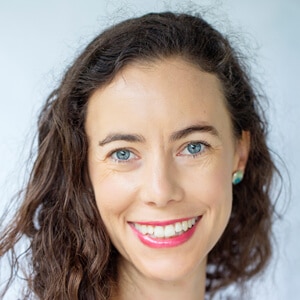 Katie Hooper
Art Director
With a passion for writing Katie has been putting pen to paper since she was a child, creating fabulous worlds for other people in fantasy and reality, with her artwork and events.
Katie has just finished 'Visible Me' a collaboration with Feros Care she pitched to them to help seniors feel seen and heard by interviewing them and writing up snippets of their life story as well as taking artistic photographs of them. Whilst writing consumes a great part of Katie's mind, art consumes the rest. If she is not crafting, she is sketching numerous sculpture ideas and trying to find ways to bring living art to the Gold Coast. She won the Emerging Artist award at the 2016 Swell Sculpture Festival for her two oversize deckchairs; and in 2020 wrote and performed an emotional and intimate theatre piece with a group she coached on the subject of authenticity for the Placemakers team. Her decadent food centric still-life photographs were finalists in a British competition in 2020 and internationally published in a printed magazine. In 2021 her naively sewn cyanotype gown, 'Slowly Fading, Abundance' was a finalist at the Hornsby Art Show in Sydney. Katie spent several years in London apprenticing to a Haute Couture milliner making stunning head pieces.
Bringing people together to create shared meaning drives much of Katie's creations. She believes in making the world a more colourful and happier place and is constantly looking for ways to brighten her little corner of the globe.
Tarnya Sim
Creative Marketing Lead
Energy, ideas and a passion to smash stereotypes to age and ability is what drives Tarnya and her team who are responsible for Feros Care Grow Bold projects The Grow Bold projects team deliver campaigns and events to delight, engage, entertain, empower to amplify the Feros Care brand whilst advocating and inspiring seniors to live bolder lives. Healthier. Better connected. More active. More fulfilling lives.
Using an original approach, the Grow Bold projects further enhance the profile of Feros Care in the community by highlighting the organisation's range of award winning aged care programs and initiatives. The common theme amongst these award winning Grow Bold campaigns is to create conversations to change attitudes towards older Australians delivered through projects like Pimp My Ride – Graffiti Grannies, Ask Gran Not Google, Bold Bucket List, Bold Ballerina's, Gran Slam and over three Seasons of Fearless Films in conjunction with Screenworks Australia.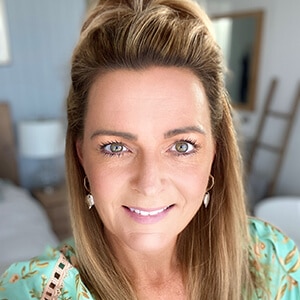 Stephanie Petrou
Project Coordinator
Stephanie is a team player, working closely with all the stakeholders involved in the Visible Me project. As part of the Grow Bold projects team, she has worked on major projects such as Fearless Season 3, Gran Slam and Laughter Yoga. Taking care of our ongoing sponsorships, events and partnerships with Feros Care. Stephanie has previously delivered some of the largest events in Australia for organisations such as Disney, Lego, Woolworths, AFL (Australian Football League) and many more. She continues to find purpose through our life changing Grow Bold projects, by making our seniors day and listening to what is most important them.
Elaine Harriot
Photographer (NSW)
Based in Terranora, Elaine is a freelance photographer specialising in lifestyle and newborn photography. Her fascination with this art form started at a young age where she learnt to capture those special 'fleeting moments in time' photographing everything from landscapes to animals and much more.
Martyna Celeste
Photographer (QLD)
Martyna is a talented photographer who brings a wealth of knowledge and experience to the Visible Me project. Coming from a wedding and portrait photography background, Martyna always makes her client feel effortlessly at ease, beautiful, and in good humour. She has won a multitude of awards and commendations for her work.
Emilia-Maria Krenzel
Makeup Artist (QLD)
Emilia has been a makeup artist and hairstylist for nearly 7 years and worked with half our Queensland participants. "I am passionate about makeup as I struggled with self-image growing up, and slowly obtained my confidence in learning to do my own make up, and that is where I found my love for it. I love making people feel beautiful, seeing themselves in another light and sometimes even changing their perception of how they look and who they are. I always try and advance their natural beauty in most situations, unless asked to create something different".
Emilia has received many awards including being placed in the top 3 Australian Bridal Makeup Artists of the year in Queensland and winning in 2018.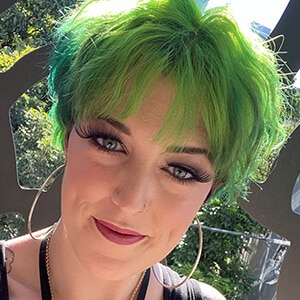 Sarah Duffy
Makeup Artist (QLD)
Sarah Duffy is the make-up artist for half of our Queensland participants. She has been a professional hairdresser for over 14 years and more recently a makeup artist. "I am so thankful to have a career that I love so much – It is not just the artistic aspect of the job that I love, it's my clients. When I can transform how someone sees themselves, turn them into the character they love or find different ways to connect with neuro-diverse children – It's what makes this job so special and rewarding".
Anna Gray
Makeup Artist (NSW)
Anna has over 25 years' experience in Film and Television as a professional hair and makeup artist. She has worked on many of the major movies filmed in Australia with many Australian and international celebrities. For this project she worked with most of our NSW participants and got exactly the looks we were after.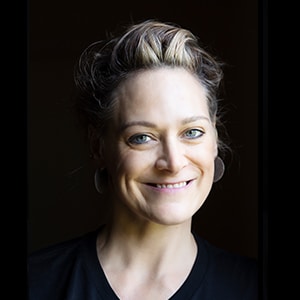 Katy Treager
Makeup Artist (NSW)
Katy is a freelance makeup artist based in northern NSW who has extensive experience with makeup and hair artistry. Whomever she meets Katy always tries to leave her clients feeling better than they walked in and has a natural talent for transforming our seniors into the best versions of themselves.
ABOUT FEROS CARE
We're Feros Care. And what we care about most is helping people live bolder lives. Healthier. Better connected. More active. More fulfilling. We don't just want you to live. We want you to dream. To get your feet wet and your hands dirty. To laugh, have friends, be happy. To have ambitions, passions, plans. We call it growing bold and for over 30 years, we've been making it real, both for older Australians and those living with disability. We can support you in many ways and with many services. We can help with residential aged care, home care, accessing the National Disability Insurance Scheme, veteran's services, community care, or getting you back on your feet after a hospital stay.
Contact Us
If you have any enquiries or would simply like to provide feedback to the project team of Visible Me project please enter your details below, we would love to hear from you!