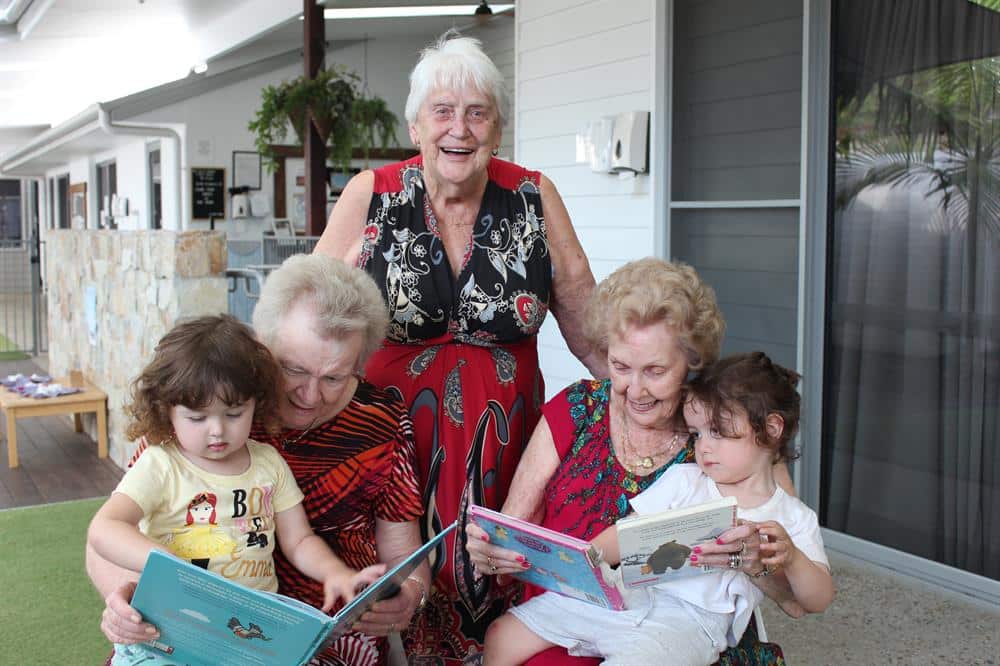 Back to preschool with Feros Care residents
Feros Care has joined forces with a local early learning centre for a program that is tapping into the skills and experience of the amazing senior residents of Feros Care to improve the literacy of the centre's pupils.
Currumbin Early Learning Centre and residents of Feros Care Village Wommin Bay have teamed up to facilitate one-on-one reading and conversation to boost children's vocabulary and reading skills, while improving the wellbeing of the seniors.
"These interactions are invaluable for the children in terms of improving their literacy, but the benefits are far reaching for both generations," said Daniele de Oliveira – Centre Director at Currumbin Early Learning Centre, who introduced the program.
"This program gives the elderly volunteers a real sense of purpose and a chance to contribute and the children get the opportunity to interact and learn from some of the most experienced people in our society."
Ms de Oliveira said the senior volunteers had undergone training in an education model known as '3a Abecedarian Approach Australia' – a set of evidence-based teaching and learning strategies for children from birth to five that prioritises language, conversation and reading.
She said for the children, there were added benefits.
"We have lots of families from elsewhere – either overseas or interstate – so they don't have grandparents around and we recognised that they were really lacking an understanding of older people and their role in the community," said Ms de Oliveira.
"I know my own son would get quite surprised and often scared when he saw an older person because he is not surrounded by them.
"I decided to take action. When the Australian Early Development Census came out we discovered the children in our area weren't doing well with literacy. So we knew we had to do something and realised this would be the perfect opportunity to introduce seniors into our centre on a regular basis.
"The team at Feros Village Wommin Bay now drive a bus up from New South Wales every week to bring their four resident volunteers.
"It's a big commitment but it's clear that Feros Care genuinely want to give their residents every opportunity to participate in their community and connect with people outside the village, and our kids are all the better for it."
Ms de Oliveira said at first the children were very curious about their new visitors, intrigued by their walking devices, the way they moved and their 'wrinkly skin'.
"Once the novelty of all their differences wore off, the real conversations started – they shared names, told stories and talked about the things they liked.
Feros Village Wommin Bay resident and volunteer Margaret McAtasney said it is a privilege to be included by Currumbin Early Learning Centre.
"It's actually a real honour to be able to contribute to the education of another generation," said the 88-year-old.
"I was a school teacher once, and well, I guess in some ways now I still am.
"It's wonderful to be able to put my skills to use again and feel valued and needed."
Children can never have too much one-on-one time and there are so many seniors in our communities who have these incredible skills that rarely get put to use – it just seems like such a waste.
The older generation have a lot to contribute to our society and children have a lot to learn from them so we should be connecting them wherever we can.