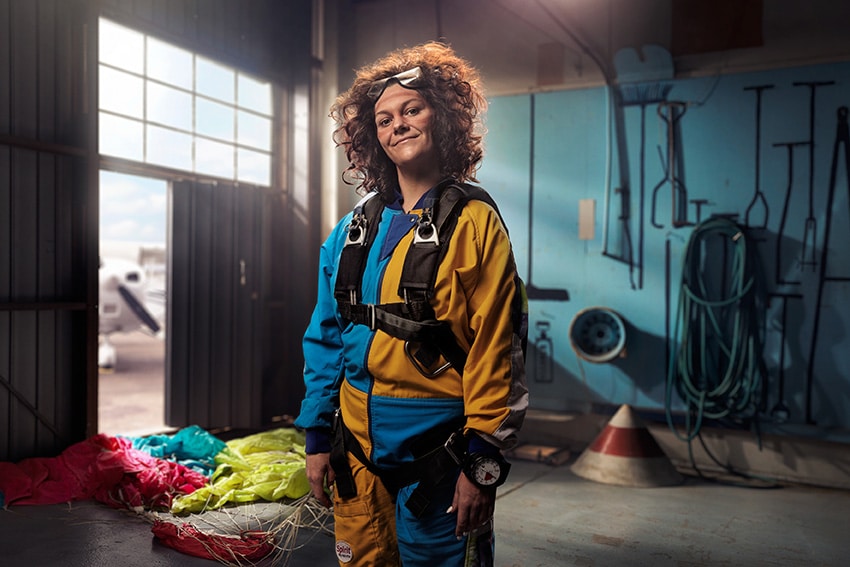 "I'm a mum who works full-time in aged care – and I give both 110%!"
Those who claim to effectively juggle work and parenthood often encounter wistful sighs, twinges of envy, and statements like, 'my job makes that impossible.'
Korrine Napier, an inspirational go-getter who isn't wired to do anything by halves, used to react this way. She was constantly torn between workplace and home demands, and experienced "colossal mum guilt."
That was until she started working as a Wellbeing Manager at Feros Care.
Now, she has the flexibility to be a present, hands-on mum to her two young children, as well as a high achiever professionally. And the icing on the cake is that she absolutely loves her job and makes a difference to her clients' lives every day.
The best of both worlds
After working in roles where contact hours were set in stone, Korinne almost bursts with enthusiasm when she talks about her current working conditions.
"Feros is all about family. In other jobs, you'd call in sick and it would be the end of the world and you'd think, 'I'm going to let everyone down'. I don't feel like that at all in this role, and I can give my clients and my kids the support they deserve," she says.
Prior to starting at Feros, Korinne had never been able to take her daughter to school – a sacrifice many working parents have to make.
"They changed my hours to allow for school runs, so now I can do drop off and pick up which is amazing."
Korrine's manager also allows her to work from home one day a week, another gamechanger for this busy mum.
"I honestly don't get the mum guilts anymore. Layla used to cry all the time and say, 'why can't you come to this mummy?'".
"It was so hard, but now I can go to the important things and she is so happy. And I'm so happy too because my community care work is so special to me."
She also explains how the flexibility has benefited her partner, his earning capacity, and their relationship.
"By securing this job, it's enabled my partner to work away from home. Even with him gone every two weeks, I can still be a top mum and go to every kids' activity. I was never able to do that."
When you know, you know
Korinne always knew she was always going to care for people one way or another.
Raised by her beloved grandparents, her admiration and appreciation for seniors was cultivated from a young age.
"Being brought up by that generation, I have so much respect for them and the sacrifices my grandparents made for me".
"I wanted to advocate for them. I wanted to do everything I could to ensure they live the rest of their days feeling supported."
Korinne commenced her school-based training in aged care when she was just 15 years old. She went to TAFE one day a week and worked two days a week in a residential care facility.
Deciding her ultimate goal was to become a nurse, she studied for a Diploma of Nursing throughout her first pregnancy, demonstrating incredible commitment to finish what she'd started.
"My son was three days old when my final exam was on. So, I took him along in his capsule and I finished that exam!" she says with a proud smile.
After obtaining every nursing certificate in the TAFE system, Korrine's teacher put her knowledge and passion to good use.
"They arranged for me to do careers talks with year 10 students to tell them all about aged care and why it's such an amazing industry to work in."
Korrine still fully intends to be a Registered Nurse but has put her studies on hold for the moment while "my children are young and need me."
Why aged care fills Korinne's cup
In addition to her backstory, there are many reasons why Korinne is so passionate about aged care. The valuable life lessons she has learned is one example.
"They (the clients) all teach me something different, and it's not necessarily the stuff you might expect. It's really interesting, like learning about genealogy from one of my clients who is studying it."
"Plus, I've earned lots about being a mum, and they've taught me to be humble."
Korinne also feels secure being in such a high-demand industry, pointing out that she'll "never be out of work and will always be able to get a job."
And of course, she feels incredibly fulfilled.
"It's so rewarding. Even when you assist with something so small like helping a client with their shopping, the level of appreciation is incredible."
"We bring so much joy to their lives and that brings us joy."
"Honestly, if there was a role made for me, this is it."
"People would love the job if they tried it"
When asked if she had any stereotypes of aged care workers and clients growing up, Korinne laughs.
"As a kid, I thought you had to be old to work in aged care which is completely wrong."
"In fact, most of the clients have grandchildren who bring them so much happiness, so they just love talking to me because I'm around the age of their grandkids."
She also speaks about how much the clients gain from connecting with carers 'outside the box'.
"I sky dive and I've showed many clients videos of me jumping out of planes. They really enjoy watching them!"
"There are so many misconceptions out there which put people off working in the industry. They would love it if they tried it."
Feros Care – really does care!
Korinne not only raves about the flexibility and 'family first' culture at Feros, but the genuine commitment to helping clients grow bold and enjoy the best possible quality of life.
"I really like our mission, values, and what we stand for – we really care."
"Also, I see the longevity of other employees at Feros. It takes good management to retain people and the fact that people stick around says a lot."
"The team is really positive and if the clients see we're happy, they're happy. It's like a big circle of happiness!"
Not your typical aged care worker? Good, because we're not your typical aged care organisation.
Apply your skills in a career that makes a difference in the lives of seniors. Find out more and view our job vacancies here.